Let's hope the Lucky Dog Grille is here to stay. Located on the corner of Tylersville Rd. and Rt. 42 in Mason, it's revamped the space that once housed a Mongo's Mongolian Grill.  I got my girlfriend, B, to visit with me and S one day while K was at camp.  It didn't hurt that I had a buy one entrée get one free (value up to $7.99) to entice us into their doors.  Another thing that is always a winner with our family is that they offer a Kids' Eat Free night on Tuesdays.  We visited on a Thursday but it's nice to know that we have another kids' east free option in Mason.
Upon entering the restaurant, you step into a very large entryway.  The bar area is tucked back on the left side of the restaurant but since we were here with S, we opted to bypass happy hour (11am-7pm) and sit in the main dining area.  Next to the bar is another section with pool tables and some arcade games.  In the main dining area, we asked for a booth, but most of the other tables are square four-seaters; all are covered with some type of plastic covering.  I surmise they either do this because 1)they get a lot of children dining with them or 2) they have a lot of messy adults eating their Grilled Big Dog Wings that can be "tossed in a choice of fifteen tasty sauces" ranging from mild to "flaming hot" (6 wings/$5.49, 12/$10.49 and 18/$15.99). I'm leaning more toward option two. I really wish I would've tried the wings since they claim that they are the biggest in Cincinnati.  I'll save that for our next visit (lucky, we have another coupon offering 6 free wings to try).
The menu is a bit overwhelming with most menu items ranging from $5-$11.  Our server was very friendly and told us she could help us navigate the menu if we needed her help. There are appetizers, salads, wings, house specialties, burgers, chicken, wraps, Philly sandwiches, soups and more.   With so many good choices to choose from, it was a difficult decision to make. My friend and I both opted to try the salads.  She got the Grilled Chicken Salad served Buffalo style ($7.99 with buffalo sauce drizzled over the salad) and I got the Black & Bleu Salad ($7.99).  S had a few kids' dining options which included a soft drink for $4.99 (I wish milk wasn't an extra charge at $.79). S chose plain spaghetti (no sauce) but they did add shredded cheese when I requested this instead.
Our salads were really pretty to look at.  They were substantial portions and had fresh crisp lettuce along with some yummy tomatoes.  The only drawback for me is that I should have read more about my salad since I was picturing sliced steak atop my bed-o-greens but instead I had blackened Philly-style shredded steak on top.  I really liked the bleu cheese crumbles added to the salad and the fresh greens.  Of course, if they did offer sliced steak then the cost of the salad would also increase.  It's a good reminder to always read the meal descriptions.  B really enjoyed her salad and it did look delicious.  S ate all of her pasta but she wondered why she didn't get any garlic bread with it.  Actually, having some bread or rolls with all of our meals would have been a nice touch.  In the future, I think I'd probably split a salad and then get a wrap or sandwich to split too.
As we were finishing our meals, it was nice to see the dining room filling up with patrons.  Lucky Dog Grille offers happy hour, daily drink specials, carry-out, kids' eat free on Tuesdays and if you have a four-legged friend, you are welcome to sit on their outdoor patio and dine.   I think Lucky Dog is a great addition to our dining options in Mason.  Having another family-friendly restaurant is always a bonus in my book.  Maybe we'll see you there next Tuesday. Unfortunately our dog Bailey, will have to dine at home since she's lacking a bit in her social graces.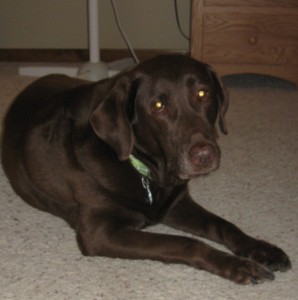 Lucky Dog Grille
729 Reading Road Mason, Ohio 45040 Ph: 513-204-LUCK