Recently Qdoba Restaurant Corporation contacted me with an offer to try out their Summer Fresh Mango Chicken Salad.  I cannot resist an opportunity to taste food, especially when it is free, so I accepted their invitation to try the salad.  Tonight my husband and I loaded up the van and took our three sons to Qdoba in Florence on Mall Road.  Did you know that on Fridays kids eat FREE at Qdoba?  Well now you do!  Kids eat free with an adult purchasing an entrée.  With a family of six, I need to be taking advantage of deals like this more often.
So my husband and I each got the Mango Chicken Salad, and the kids got Cheese Quesadilla kids meals.  I also got a grilled chicken quesadilla for us.  Let me explain the need for an extra quesadilla…I was skeptical of the Mango Chicken Salad.  I do not usually care for fruit in my salad.  I love fruit salad, and I love green salads, but not a fan of mixing the two.   I ended up LOVING the Mango Chicken Salad, it was delicious!  I recommend getting the grilled chicken on it, and the cilantro-lime vinaigrette was very tasty.  It made a hearty meal, and we ended up taking the grilled chicken quesadilla home with us.  At the risk of sounding like a commercial here, it's only there for a limited time…you should try it too.  I ordered our food at the counter while my husband sat with the boys and when the food was ready the young lady at the cash register helped me carry all of the food to the table, which I thought was very sweet.
The restaurant was very family friendly; many of the people dining there tonight had children in tow like we did.  There is outdoor seating as well, and next-door is Cold Stone Creamery if you have room for dessert after dining at Qdoba.   I thought the prices seemed very reasonable, and they had a pretty wide selection of food on the menu.  I think we'll be going back to try other things this summer, probably on a Friday to take advantage of the kids eating free.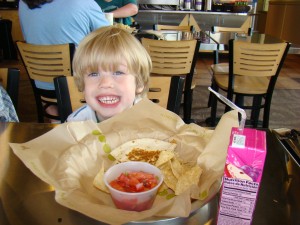 Qdoba Mexican Grill
7683 Mall Road
Florence, KY 41042
859-647-0296