As the devastation in Nashville is shown more and more, I wondered about letting P see the images.  We have family there (spared for the most part as they live north in Goodlettesville).  She knows that Nashville equals her cousin O.  I worried about the affect the coverage would have on her.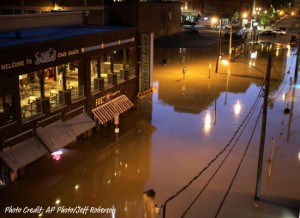 But this morning, there was a report on one of the stations that I just couldn't turn off.  All of us were gathered around the tiny television in my bedroom, looking for the weather report before scurrying out the door in our usual 15-minutes late fashion.  The station was talking with a man, in his fifties, robust and burly; you could tell he was used to being in control, strong, together…so brave at the beginning of the interview giving the who, what, and when of the storm and how they survived it.  But when talk turned to what he's lost he broke and my heart ached for him.  He talked about his home, at one point under over ten feet of water, losing everything…he said the worst part was all the pictures of his children gone forever…all the memories they represented.  Now the memories are all he has left.
P saw the reaction – tears in our eyes.  "Mommy why is that man so sad?"  I tried to explain in three-year old terms that he'd lost all the pictures of his babies and he can never get them back. I've accumulated thousands of pictures of P.  She knows how important they are to me, hung on our walls, telling the story of our family.  It seemed to click for her why this man was so sad. She replied, very determined: "Well, we can give him some of our pictures Mommy."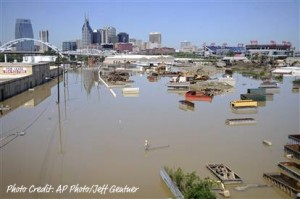 I promised P we'd work together and send help down to that man and all the other folks suffering.  Below is information on how  all of us can help. As the clean up efforts get underway, they are estimating a cost of over a billion dollars and so many folks face rebuilding without the luxury of flood insurance.

The American Red Cross, along with FEMA, seem to be the leaders  in the charge.  The Red Cross has been asking for local volunteers from surrounding areas for days now, there is so much to do.  You can donate online; by calling the local Red Cross phone bank at 615-250-4250; or you can give $10 (via your phone bill) by texting REDCROSS to 90999.

Another wonderful organization I've just learned about is Hands On Nashville (HON).  Their name says it all – they rally volunteer troops and work hands on problem solving.  You can visit their site to learn more and donate.  They are always looking for volunteers – perhaps you or someone you know has skills that are so needed right now.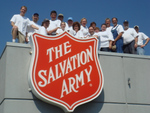 I understand from my sister-in-law that The Salvation Army is collecting various sundry items – toothpaste, shampoo, diapers.  I'm trying to find out if we can make donations to the Salvation Army locations in the Tri-State to be sent to Tennessee.  I will keep you posted.  As always, donations can be made directly to them through their website as well.  You can follow along with their relief efforts on their blog here.
We've made calls to our local organizations and we'll update this post regularly as we find out more.
In the meantime, keep our neighbors in your prayers.