Each December, The Children's Law Center (NKy) hosts a holiday fundraiser.  It was because of this fundraiser last year that we were introduced to The Ensemble Theatre of Cincinnati.  2008's performance of Alice in Wonderland was P's first venture to a live performance and the entire family had the best time.  The Ensemble Theatre did such an outstanding job with that show, I was a little worried they could ever match, much less top themselves.
But top themselves they did yesterday with their production of "Sleeping Beauty".  From start to finish, this show was magnificent – music, costumes, voices – delightful.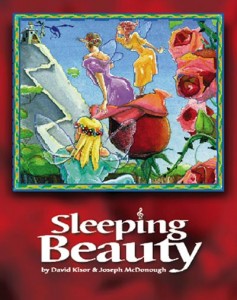 P was a little leary at first (she worries about "bad guys" of course) but minutes into it she was completely entranced.  The theater is small and intimate and because the seats are so well-stacked, there isn't a bad seat in the house.  Parents need not worry about little heads being able to see over big heads in front of them – I love that because it means I don't have a toddler on my lap the whole show.  At points in the show, the cast asks the audience for advice and the kids loved that of course.
Believe me when I tell you this AIN'T Disney's Sleeping Beauty – so little boys will like it just as much as little gals.  Plenty of humor and fun lyrics to tap your toe to.  If you get the chance to check it out, you won't be sorry.   This show runs on weekends through January 3rd and there are matinee performances on Saturdays and Sundays.  For more information and tickets you can click here.