Who's ready for a little friendly competition? On Saturday, November 23 from 11 am – 2 pm, Metro and TANK will compete to see who can collect the most nonperishable food items for local non-profits in a Holiday Food Drive. Cincinnati donations go to the Freestore Foodbank and Northern Kentucky donations go to Be Concerned in Covington.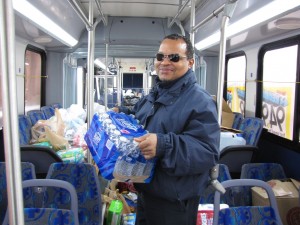 The Freestore Foodbank is the largest emergency food and services provider to children and families in the Tri-State. They partner with more than 275 nonprofit agencies throughout 20 counties, and distributes over 19 million meals and products to more than 300,000 people each year. Visit their website for more information. Be Concerned began helping low-income people of Northern Kentucky as the Christmas Store in 1968. Since then, they have expanded to assist in obtaining basic necessities for life throughout the year. For more information about either organization, visit their websites: www.freestorefoodbank.org http://www.beconcerned.org.
The Cincinnati collection site is the Anderson Kroger at 7580 Beechmont Ave, and TANK will collect at the Buttermilk Towne Center Remke Market, 560 Clock Tower Way, Crescent Springs, KY. Some most needed items include:
Canned meat products
Peanut butter
Canned vegetables and fruits
Canned soups
Macaroni and cheese
Personal care items
Head out on November 23 and help support these organizations on both sides of the river!