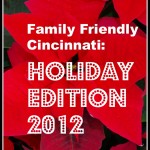 When I was a little girl, my Grandpa loved driving around and looking at Christmas lights. This is the stuff memories are made of — and for that I am very thankful. He used to pick us up in this motor home (yes, his motor home) and we would charge around in the back racing from window to window as he drove around town. Times sure have changed when it comes to running around in the back of a motor home, but fortunately we still have lots of opportunities to see amazing light displays all around Cincinnati.
Open November 23, 2012 — December 31, 2012
Sunday through Thursday – 5:00 PM to 9:00PM /Friday, Saturday and Holidays – 5:00PM to 10:00PM
3205 S. Waynesville Road in Morrow, Ohio 45152
"May the spirit of Christmas remain in your heart throughout the year!"
A whimsical place with 500,000 dancing Christmas Lights synchronized to holiday music. Truly an old fashioned family experience.
"New This Year 2012! This year we have a spectacular new form of Christmas entertainment. Introducing our own 3-D Holiday HoloSpexs. Not only will you be amazed by our sychronized visuals, but now watch as colorful snowmen, reindeer and stars appear to dance along with the music and lights. Pick yours up at our Christmas Shops through out the village!"
Enjoy a wagon or train ride, photos with Santa, Christmas Shops and Santa's Bakery and Cafe.
Complete details with pricing information is available on their website. You can also find a FFC review of the Christmas Ranch here.
November 16 — December 31
6:00 p.m. to 9:00 p.m. Sunday – Thursday; 6:00 p.m. to 10:00 p.m. Friday – Saturday
Sharon Woods, 11450 Lebanon Rd. Sharonville, OH 45241
Families from all over town can enjoy thousands of animated and decorative holiday light displays…all from the warmth of their car! Holiday in Lights is an entire mile worth of cheerful holiday scenes that are sure to bring joy to everyone who passes through.
Admission is $12.00 per car or $45.00 for buses or vans with more than 15 passengers. Download a $2 off coupon.
Questions? Call (513) 769-0393
November 23 – January 1, 2013
Open Sunday through Thursday – 5:00pm – 9:00pm; Friday and Saturday – 5:00pm – 10:00pm (Closed Christmas Eve and Christmas Day)
3400 Vine St., Cincinnati, Ohio 45220
HighLIGHTs:
NEW Wild Lights Show on Swan Lake
NEW S'mores-N-More
Madcap Black-Light Puppet Show
Santa and his reindeer
Strolling entertainment
Themed areas
North Polar Express Train Ride
Fairyland – find the 5 hidden fairies
Pick up your half price coupons at your local UDF and enjoy half price admission to the PNC Festival of Lights on the following dates: November 26, 27 & 28 OR December 3, 4, 5, 10, 11 & 12.
Price is included with your general admission.
November 22, 2012 – January 1 2013, every night including holidays.
Hours: Sunday, Monday, Tuesday, Wednesday and Thursday 6-9 PM & Friday and Saturday 6-10 PM
Admission: $20 per carload Monday thru Thursday; $25 per carload Friday, Saturday and Sunday
1763 Hamiltion-Cleves Road, State Route 128, Hamilton, Ohio 45013

"Holiday Lights has been a must see at the park for thirteen years running.  Hundreds of light displays are pulled from  storage every year to make this winter wonderland.  A family favorite at the park "Candy Cane Lane," is a quarter mile stretch of road lined with twelve-foot tall candy canes.  Skaters and swans glide along the park's lakes and tunnels of lights grace the park's paths.  Each year new ideas are explored, so there is something new for everyone to see. Over two million lights create the spectacular light displays that run through the park. Visitors drive through a magical world and are amazed as the park's monumental sculptures glow among the lights."
November 23 — December 31
6-10pm every night (regardless of weather — all holidays included)
Guests set their own price for admission.
Smith Park is located on Tytus Avenue just off Verity Parkway (SR4). The park is adjacent to Middletown Regional Airport.
"Enter through the tunnel of lights to enjoy a sparkling fantasy land. Several surprise new displays will be added for the 2012 event.  Light Up Middletown is a circle driving tour with several themed areas including a floating sea serpent in the fishing lake, Santa's Workshop, Santa's sleigh, train, animated swans, American flag, penguin village, deer leaping over the roadway, a lighted helicopter, airplane, and hot air balloon – all with thousands of twinkling lights. The fun expands every year in the 100-acre park."
Motor coach tours are welcome.  (All arches over roadways accommodate buses.)
Admission by donation – Drop a donation in the box as you enter the park.  All donations are used to purchase, upgrade, repair, and replace displays and make park improvements.
Sponsor – Light Up Middletown is a non-profit organization raising money to make improvements to Middletown City Parks.  All construction labor and gate attendants are volunteers.  Several local businesses, The Middletown Journal, and Middletown Convention and Visitors Bureau join together to make each year's Light Up Middletown even more exciting.
Light Up Middletown is located at Smith Park, 500 Tytus Avenue, Middletown, Ohio
Directions:Take I-75 to exit 32. Follow State Route 122 to downtown Middletown. Smith Park is located on Tytus Avenue just off Verity Parkway (SR4). The park is adjacent to Middletown Regional Airport.
Come join the fun, see the lights.  Enjoy fantasyland in Middletown, Ohio!
Open every night from Friday, November 23 – Sunday, December 30, 2012.
Hours are Sunday thru Thursday – 6:00-9:00 p.m. and Friday & Saturday – 6:00 – 10:00 p.m
4972 LeSourdsville-WestChester Drive in Liberty Township, Ohio 45011
Niederman Christmas Farm is a free walk-though Christmas display, open the day after Thanksgiving through December, 5:30pm-10pm daily. Visitors will enjoy tens of thousands of lights that illuminate the path. Christmas music plays from speakers throughout the farm as you view life-size nativity and several Biblical scenes telling the real story of Christmas. Local choirs perform throughout the month. Kids will enjoy looking at the hundreds of decorated trees and seeing the live animals. The walking path is wheel chair and stroller accessible.
November 22, 2011, through January 2, 2012
18 impressive shows will take place daily beginning at 6:10 p.m., every 20 minutes with the last show at 11:50 p.m.
Newport on the Levee, Newport, KY
"Looking for something new, different and FREE to enjoy this holiday season?  Newport on the Levee has THE show for you and your family.  The Levee's Holiday Light Show, Light Up the Levee, will illuminate the exterior Riverwalk from the Gallery Building to the Newport Aquarium featuring LED lights dancing in synchronization to holiday music.  Over one million lights comprise the Levee's holiday package this season.  The display will include a 30-foot tall Christmas tree with a six-foot tall topper of the Star of Bethlehem, ten- and 20-foot spiral trees, five-foot snowflakes, wreaths and more.  The energy efficient LED lights last up to 70 times longer and use one-tenth of the electricity of standard incandescent bulbs. "
Do you know of any other light displays in or around Cincinnati? If you do, please put this information in the comments below.  Thanks!
When not blogging for Family Friendly Cincinnati, you can find Karen writing at her personal blog at Little World After All.