Fall is my favorite season of the year.   Seeing the leaves change color and enjoying our neighborhood as it comes to life with Halloween decorations and seasonal porch displays is something I look forward to every year. I also love that it's cool enough for a sweatshirt but not so cold that you need your bulky winter coat.  Nothing beats sipping on some apple cider or biting into a tart crisp apple on a beautiful fall day.  Fall is also the perfect time to visit a local farm for a fall festival. One of the drawbacks to the season, is that we only have a short window to enjoy all the amazing local events happening and with so many fabulous farms to visit, we are limited on how many we get to actually see.  Luckily, our family got a jump start on fall since we were able to visit Blooms & Berries Fall on the Farm on opening weekend.
If you are trying to decide on a local farm to visit, you may want to add Blooms & Berries to your list.  It is very family-friendly and your kids will love it.  Fall on the Farm is also budget friendly.  You can either choose to participate in some of their paid attractions or you can also just visit and enjoy their free attractions too.  There is a big open field filled with piles of pumpkins and gourds, a giant tube slide, another tube covered by hay that kids like to run in/out of, a corn box filled with corn kernels to play with, goats to pet, tug-o-war game, and a covered indoor hay maze. This is perfect for smaller kids since you can actually see where they are as the go through the maze.
There are also some fun attractions for a fee.  They have a tractor drawn hayride to the pumpkin patch ($4), a huge 7 acre corn maze ($5), a Sunflower Path ($1.50) or you can bundle all three for ($8).  Since it was opening weekend, we purchased our tickets for a discount and had tickets to all three.  The sun was shining the day we visited, so our hay wagon ride was really enjoyable.  The hayride takes you to a large mowed field situated next to the pumpkin patch.  Here they have a large assortment of pumpkins you can choose from (I think they were $0.42/pound). So instead of going directly into the pumpkin patch, you can pick one of the pre-picked pumpkins here.  If you have little ones, this is nice since you are somewhat contained in the same area (it's still a large space) but you don't have traipse through all the pumpkin vines to get to the "perfect" pumpkin.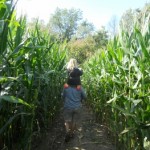 Next we visited the a-Maiz-ing corn maze.  The corn maze is HUGE so make sure you don't make the same mistake I did with our girls.  Have a talk with your kids and give them some rules before heading in.  For us, we should have explained that they need to make sure Mommy & Daddy are within eye sight at all times and to not just take off at full speed into the corn maze. You would have thought our nine year old was training for the next Olympics since she disappeared in a flash.  The corn maze has some interactive areas where the kids can punch a "Who-dun-it" postcard adorned with adorable cartoon animals.  At each station, if you find the animal and match it to the one on your postcard, you can make a hole punch on your card.  If you find all the animals and figure out who the remaining animal suspect is then you can turn in your postcard for a small prize. We never found all the animals since the corn maze was so big. The only thing I wish the corn maze had was arrows pointing towards the exit just in case you have kids that take off at warp speed (not naming any names) or for anyone who lacks a sense of direction – you can easily spend a long time trying to find your way out.
The Sunflowers were gorgeous but since we did the corn maze, the girls didn't want to walk through the Sunflower path.  These would make a beautiful backdrop to any photos so make sure you are camera ready when you visit.  Blooms and Berries also has Mum's, gourds, pumpkins, jams, popcorn and Fall decor for sale.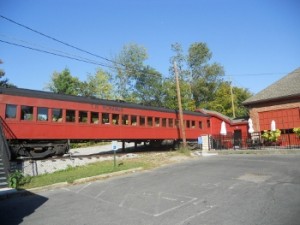 After our visit, we were hungry.  Blooms and Berries is close to downtown Loveland and we opted to try out The Works Brick Oven Restaurant.  I knew my girls were going to enjoy this restaurant since the first thing they noticed was a big red train car attached to the historic building and they kept asking, "Can we sit in there?"  The building was originally used as a water filling station for steam locomotives then transitioned to a firehouse, and was also used as a public works building.  I love that the local owners, Scott & Jamie Gordon, re-purposed the building for others to enjoy.  The restaurant was hopping.  There were lots of people enjoying their meals in the large space that I think was originally where the firetrucks would park.  A large bar area with plenty of table seating filled the space.  We asked to be seated in the train car and our hostess politely showed us to our seats.  It was so  much fun!  I even got a kick out of sitting in the train car with thoughts of what it would have been like to travel by train in days gone by.  Kids will definitely think the train car is "cool".
I asked our waiter what most people order and he said the brick oven pizzas.  Ding, ding, ding….we have a winner.  K opted for a cheese pizza (she's so daring), I tried the Mediterranean topped with artichokes, fresh basil, diced tomatoes, spinach and feta cheese ($7.99/personal size), Chris got the The Works topped with pepperoni, sausage, ham, grilled chicken minus the mushrooms ($8.99/personal) and S went with plain spaghetti with cheese ($4.99 for the kids meal and it included a drink and a side of bread).  Chris and I also got side salads  ($3.99 with pizza or $5.99 on its own, which I thought was a tad high).  Our salads arrived first and they were put together really nicely.  Salad always seems to taste better when someone else prepares it.  I liked that they added thick strips of Parmesan cheese to top it off so even though it cost slightly more than what I would have expected for a side salad, it was really good.   We all enjoyed our meals.  The brick oven pizzas were yummy with a delicious crust and the toppings were fresh and flavorful.  The girls gave their meals two thumbs up.  We will definitely return to The Works.
I hope you and your family get to enjoy a fun fall day soon.  We'd love to hear about some of your favorite farm festivals to visit so please leave a comment so we can keep on sharing.
Blooms & Berries – Fall on the Farm
Now through Oct. 31 Hayrides: Sat. & Sun – all day M, W, F – 1, 3, 5pm Corn maze open daily 9669 St. Rt. 48 Loveland, Ohio 45140
Connect on Facebook
The Works Brick Oven Restaurant
20 Grear Millitzer Lane Loveland, OH 45140
ph: 513- 697-8408    
When not blogging for Family Friendly Cincinnati, you can find Kristin writing on her personal blog, MasonMetu (from me to you).