England-Idlewild Park is part of the fabulous Boone County parks system.  I asked our awesome FFC readers for some ideas on places to walk in Boone County with paved trails, and several folks mentioned this park.  I'm always happy t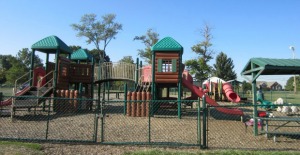 o find a place where I can walk for exercise, but end up at a playground for the kids, so they can run off the pent up energy from a long stroller ride.  England-Idlewild really is a perfect park for walking, the trails were paved and picturesque.  The boys enjoyed seeing the ponds, walking through the "woods" (where they sang "Lions & Tigers & Bears OH MY"), and saying hi to everyone we met on the trails.  And then at the end of our beautiful walk they were rewarded with fun times on a fantastic playground.  There's not much shade at this playground, but they had something that I LOVE at a playground — an enclosed space.  It's surrounded by a fence, with a gate!  I always feel a bit better when it's hard for Henry to escape, he's a quick kid!  Henry loved the design of this park, because he thought the structures were "tree houses", and he thought he was very cool hanging out in a tree house.
Idlewild has much more than just the paved walking/biking path & the playground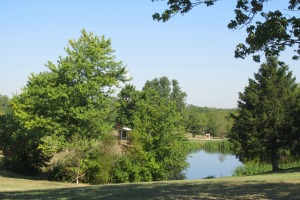 though.  They have a fitness stations along the paved trail, and they also had unpaved mountain bike trails.  They have a 24 hole disc golf course, baseball fields, basketball courts and soccer fields.  And there are picnic tables throughout the park as well as shelters you can reserve.  And there is a dog park very near the England-Idlewild Park.  So if you are looking for a park that has it all check out England-Idlewild Park!  The park is located at 5550 Idlewild Burlington KY 41005.