This Giveaway is now Closed – CONGRATS to our winners:
Michelle M, who said:  I'd love to learn Spanish. I took it in high school but that's been a while and I don't remember much of it!
Susan Smith, who said: Spanish. After so many years I've forgotten all I learned in high school & college. Planning a Mexican vacation soon, would like to speak with the locals at least a bit.
I hope that many of you are putting these language programs to good use!  Thanks for entering the contest, and for reading Family Friendly Cincinnati.  More great giveaways are coming your way, so stay tuned!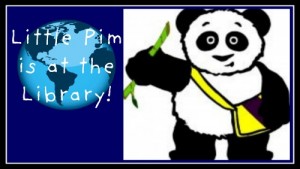 We've told you why we love the Kenton County Public Library's storytime, and we introduced you to the cool Playaway Views they have, and now I'm here to tell you about another awesome resource that they provide – online Language Learning programs!  Gosh, I know I'm starting to sound like a used car salesperson, but I really do love our local library, and all the great resources they provide…and the kicker is, it's all free (until you return books late like me).
In  elementary school I took Spanish, and in high school I took French & Latin.  Unfortunately, I remember very little of any of these languages.  I recently discovered a great way to brush up on them though, or one of many other languages of my choosing.  The Kenton County Public Library offers the FREE use of language programs on their website!  How cool is that?!?!  They offer Mango & Pim.  Pim is geared more towards children, with animated videos in the language you choose.  This program teaches by immersing your child in the language.  I watched a few with Henry, but given that his only words so far are mama, dada and a few others, I wasn't surprised that he didn't pick any Spanish words up right away.  But he loved Pim the Panda!  The other program is Mango, and it's great!  It's much like the old-school language-learning tapes people would listen to, saying things like "Hola" is "Hello".  Very basic, very simple – perfect for learning a new language, for children or adults.  And there are different levels, so you can work your way up, or start at the level you need to be at.  My kids really loved this, in fact you, might say they are a bit addicted to the program.  Ella has picked up quite a bit of Spanish in a short period of time!  These programs are fun & easy ways to either brush up on a forgotten language or to learn a new one altogether.  I think it's a perfect thing to let my kids "play" with on the computer, which they are always wanting to do.  It is perfect for home, or for classroom use!  All you need is a library card number & an email address.  So if you are looking for a way to introduce your child to a new language, look no further than the Kenton County Public Library's website!   And if these online programs aren't your thing, the library also offers Books, eBooks, DVD's, CD's and links to language learning social networks.
And in celebration of these cool language programs, the KCPL is sharing a couple great giveaways with our readers!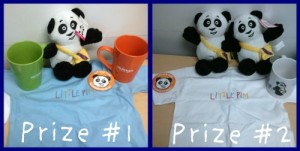 The Prizes:  Number 1 is two mugs, a pin, a T-shirt and a bear. Number 2 is two bears, a mug, a pin and a T-shirt.
How to Enter:   Leave a comment telling us which language you would like to learn or brush up on.  And for an added bonus, you can leave a 2nd comment telling us how you shared this contest with your friends.  TWO chances to win, and TWO winners drawn!  Your family would love these adorable gift sets from the library!
The Nitty Gritty:  TWO winners will be drawn using Random.org on Friday, September 30th at 2pm.   The winners will have 48 hours to respond.  Prizes can be picked up at the Kenton County Library.