My family is a big fan of the Hamilton County Park District.  I've previously written about enjoying Parky's Ark at Winton Woods as well as our adventure renting paddle boats at Sharon Woods but since those posts spotlighted the fun things going on in the summer, I thought it would be nice to focus on some of the winter activities in the parks.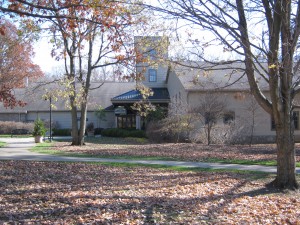 Since my Mom's birthday is coming up, I'm booking reservations for all of us at their Sunday Jazz Brunch in the Parks to celebrate.  If you've never been to one of the park's brunches, you're missing out.  The buffets are yummy and since you can return for second helpings, no one walks away hungry. Not only are there more than 25 buffet items, but there is also an omelet bar and carving station with plenty of delicious danishes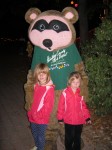 and pastries to satisfy your sweet tooth as well as an assortment of fresh fruit. Plus coffee, hot chocolate, tea, juice and soft drinks are included with your meal. Yum!  This winter, Sharon Woods and Woodland Mound are alternating dates for the Sunday brunches but at each brunch, you'll get to enjoy the smooth jazz sounds of the Chris Comer Trio.  The brunches are from 10am-2pm but please make reservations in advance. They have three seatings (10am-11am, 11am-12:15pm & 12:30pm-1:45pm) and the cost is $13.95/adults, $6.95/kids 2-12 plus tax, and under 23 months are free.
Sharon Woods Dates:  Feb. 13, Feb. 27, March 13 –  Call (513) 769-0264
Woodland Mound Dates: Jan. 30,  Feb. 20, March 6, March 20 –  Call (513) 474-3008
Now after enjoying a delicious brunch, instead of heading home, think about going on a winter nature walk or visit one of the indoor nature centers.  Sharon Woods not only has  a free indoor nature center but they also have the indoor Adventure Station which your kids will love (open 10am-5pm). It's only $2.50/child ages 2-12 years and there are climbing tunnels, slides and lots of room for them to play. Woodland Mound also has a smaller indoor nature center open from 11am-5pm.
If you can't make it for brunch, there are plenty of other chances to visit the Hamilton County Park District.  Many events are free and the only thing you'll need to enter the park is a validmotor vehicle permit (only $10 for a year to enjoy all the parks).  If you live in Hamilton County then you can fill out a "Resident Reward" form and they will mail you $5 in "Resident Rewards".
Check on their calendar of events for future ideas on fun things to do in the parks. Here's a sampling of some upcoming events that are family-friendly from their media release. If pre-registration is required, please visit greatparks.org for more details.
Friday, February 11 • 10 am
WINTER FUN JAMBOREE
Woodland Mound
Parents can register their three to five year olds for a fun program all about winter!  Cost is $4.00 per child.  Registration is required by February 8 at GreatParks.org.
Friday, February 11 • 5:45 pm
SUNSET AT GLENWOOD
Glenwood Gardens
The rolling hills of Glenwood Gardens create a dynamic view – especially at sunset with a cup of hot chocolate.  Visitors can bring their favorite cup and meet at the Cotswold Visitor Center.  The hot chocolate will be provided! This is great way to break the winter blues.
Saturday, February 12 • 1 pm – 3 pm
NATURALLY TRIVIAL!
Woodland Mound
Families can be a team for this fun and fast-paced "game show" all about local wildlife at the Seasongood Nature Center.  They can even win a prize for their efforts!
Saturday, February 12 • 2 pm
MY "DEER" FRIEND
Winton Woods
This program at Winton Centre is geared for five to ten year olds and is all about local white-tailed deer.  There will be games, a sing along and more.
Sunday, February 13 • 9 am
OWL SEARCH
Miami Whitewater Forest
The short-eared owl can be found hunting during the day.  There will be about a one mile hike to this unique owl's favorite spot in the park.  Registration is required by February 9.
Sunday, February 13 • 11 am – 3 pm
I (HEART) NATURE SCAVENGER HUNT
Miami Whitewater Forest
It's a Valentine's Day scavenger hunt!  Visitors can pick up their list at the Visitor Center between 11 am and 3 pm.  If they return it to the Visitor Center by 4 pm, they will receive a prize.
Sunday, February 13 • 1 pm
MITCHELL MAPLE SUGARING HIKE
Mitchell Memorial Forest
This sweet tradition marks the beginning of spring for many. There will be a nature walk along the Wood Duck Trail and through the sugar bush where everyone will learn all about how maple syrup is produced.
Sunday, February 13 • 2 pm
ALL THINGS CHOCOLATE
Winton Woods
It's becoming a Valentine's Day tradition!  This popular program explores chocolate – it's delicious and "dark" sides.  What a great way to spend time with a Valentine or a special friend. Cost is $4.00 per person and registration is due by February 10.
Sunday, February 13 • 2 pm
COLORS IN NATURE
Sharon Woods
Through pictures and live animals, visitors will get to see all the colors of the rainbow.  They'll see how and why color is important to local wildlife during this program in Sharon Centre.
Sunday, February 13 • 3 pm
CINCINNATI DULCIMER SOCIETY
Sharon Woods
Enjoy the sweet music of the mountain dulcimer at Sharon Centre.  All ages are welcome to join in for some jamming and singing.
Sunday, February 13 • 3 pm
TWO BY TWO
Woodland Mound
Love is wild!  A naturalist at Seasongood Nature Center will talk about how animals get together to start a family.
Sunday February 13 • 3:30 pm
HIKE FOR YOUR HEART
Winton Woods
Visitors can celebrate Valentine's Day with a short or long hike.  Afterwards, they will enjoy some warm refreshments and learn some tips on how to keep their hearts healthy!  Registration is required by February 11.
For a listing of other great playgrounds and parks, visit some of my recommendations on MasonMetu, from me to you.