Let's face it, nothing says comfort food more than a crispy, melty grilled cheese and hot tomato soup. The folks at Tom+Chee realized there was magic to be made using this very formula and a new taste experience was born!
Tom+Chee is the brainchild of a group of friends, with foodie backgrounds, who realized the glory and simplicity of tomato soup and grilled cheese..and when you have chefs and experienced bartenders/food servers in that group they tend to know what they are talking about!  Several times now I've heard "I had that idea!" when talking about the beauty of this simple concept, but this group of friends took it that one step further and turned a great idea into a reality!
Tom+Chee started out in a tent on Fountain Square serving hot soup, sandwiches and hot chocolate to cold ice skaters and downtown shoppers. Now you can find them on East Court Street serving up your traditional grilled cheese and tomato soup as well as many delicious variations on your old favorites.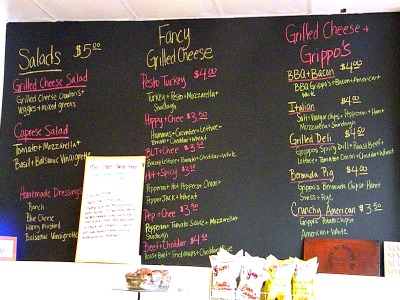 My oldest son and I recently had a chance to have a "date", just the two of us, and we chose to have it at Tom+Chee. You see he's a bit of a grilled cheese connoisseur, so I knew if there was anyone to put the Tom+Chee folks to the test it was him. I've been trying for 7 years to hear the praise he heaped upon his lunch today. Finding the recipe for the perfect grilled cheese has become a quest for me but it seems Tom+Chee already has it down pat. My big guy opted for the traditional white bread and American cheese and dove right in when it reached the table.  Did I mention he ate 2 of them?!  He made it quite clear it was the best grilled cheese sandwich he ever had.  Ever.
I ventured away from the traditional a bit..and I'm so glad I did! I had a Hippy+Chee which consisted of wheat bread, cheddar cheese plus hummus, lettuce, tomato and cucumber…can you say YUM?! I added a cup of the creamy tomato basil soup and was in complete heaven!  They have a good selection of chips and bottled drinks to accompany your lunch, and we got lucky today…Mrs. Chee had a batch of fresh baked minty chocolate brownies available for dessert as well!
Part of what has made them so successful is being a little bit daring…pushing the envelope on what your idea of  grilled cheese and soup should be.  One of their most stand out items?  The grilled cheese donut.  Don't knock it til you've tried it!  On my list for my next visit?  The BBQ+Bacon Chee-Grippo's BBQ chips, bacon, American cheese and white bread…..or maybe the Grilled Cheese Salad-grilled cheese croutons, mixed greens and veggies with homemade dressing on the side and a cup of Meatloaf Stew….yes, meatloaf, as a soup…Yum.   You can create your own grilled cheese with up to 3 different cheeses and a variety of different breads.  The soups change daily and there are specials popping up all the time.  At Tom+Chee the possibilities are endless!
Besides the fact that you can't get much more family friendly than good ol' tomato soup and grilled cheese, the price is family friendly as well!   It won't break the bank to take the kids out for a taste adventure….(and if you try the Bermuda Pig let me know how it is!)
You can find Tom+Chee at  133 East Court Street in Cincinnati, just across from the courthouse.  Hours are Monday-Friday 11 AM- 4 PM.  You can also call ahead and pick up if you are in a hurry…513-721-CHEE!  They are known to put in an appearance on Fountain Square as well, so keep your eyes open for a chance to savor the deliciousness of Tom+Chee on the Square!  For updates on soups of the day and specials (and possible appearances around the tri-state area at festivals !) check out their Facebook page as well.