From time to time we like to shine a spotlight on a non-profit organization that serves greater Cincinnati families. This week we're sharing with you the Clifton Cultural Arts Center, a community arts center located in the heart of the Clifton Gaslight neighborhood.
All the Clifton Cultural Arts Center Has to Offer
When two historic buildings – the 1906 Clifton School building and the adjacent McDonald Estate Carriage House – were scheduled to fall into disuse in 2008, community members stepped in, and the Clifton Cultural Arts Center (CCAC), a multi-venue, regional arts center, was born.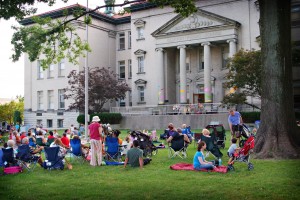 Located in the heart of Clifton's Gaslight neighborhood, the CCAC began as a simple idea in 2004: that participation in cultural and artistic activities contributes to more cohesive communities and more successful, inspired children and adults. Today, the CCAC encompasses more than 57,000 square feet of historically significant space in its regional arts campus.
The CCAC caters to all members of the community, including families with small children. "Second Sunday Family Showtime Performances" is the CCAC's newest family-friendly series. The second Sunday of each month, from now through May 2011, at 2 p.m., the CCAC will host a different theatrical act. All performances will take place in the CCAC's newly renovated third floor auditorium. Performances are free for children (12 and under), with a $5
suggested donation for adults.
The CCAC also has a family-oriented summer concert series, Wednesdays on the Green. Every Wednesday at 7 p.m. in June and July, families can enjoy a local musical or theatrical act on the front lawn of the historic 1906 Clifton School building. All performances are free.
The CCAC offers a wide range of classes throughout the year. Children's classes include acting, art, ballet, drawing, guitar, shadow puppets and sewing. Adult classes include creative writing, Flamenco dance, tap, Pilates, quilting, sewing, tai chi, and ZUMBA.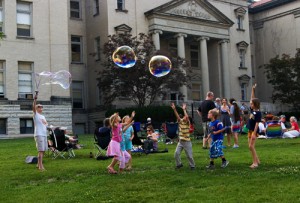 The community can also visit the CCAC to view various art exhibits throughout the year. Upcoming exhibits include Young Artists at Work in January, featuring artwork by young artists at the Fairview Clifton German Language School and Annunciation School; More Great Cincinnati Families at Home and Endangered Cincinnati: Can These Buildings Be Saved by the Betts House in February; an April Exhibit by John Humphries, who was selected from 96 local artists as the winner of the Golden Ticket Exhibit at CCAC in fall 2010; a show by The 5300 Group in April; and the Master of Fine Arts Thesis Show from UC's School of Art, DAAP in May and June.
To learn more about the Clifton Cultural Arts Center, visit www.cliftonculturalarts.org or call (513) 497-2860. Follow the CCAC on Facebook at http://www.facebook.com/pages/Clifton-Cultural-Arts-Center/137446851970, on Twitter @CCACCincinnati and on YouTube at http://www.youtube.com/user/CliftonCulturalArts.