If you thought you'd be getting a break in the action with Summer ending – BOY WERE YOU WRONG!  Fall may have just started, but it is in FULL SWING FUN already!
Our top picks?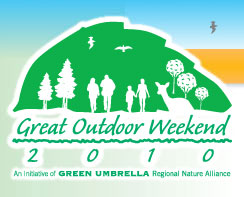 Saturday and Sunday GREAT OUTDOORS WEEKEND hits Cincinnati everywhere. Read all about it in Kristen's post from earlier this week!
Kenwood Towne Centre is hosting a Be Safe, Be Ready Safety Fair from 11am to 3pm Saturday, in the parking area adjacent to Kenwood Road.
Children ages 2 -6 are invited to visit any of the Kenton County Library branches 10am-10:30am on Friday for Preschool PlayART.  I take P to this fun story-time on Wednesday nights and she loves it!   This happens every Friday morning, so add it to you to-do list!
SPROUTS IN THE KITCHEN simmers on at the Whole Foods in Deerfield Township on Saturday at 10am.  The kids will be making KID KABOBS. (We're assuming they won't actually be skewering children) Please note: the Rookwood location is taking the week off so they can be on hand for the Susan G. Komen Race for the Cure!
Kenton County Library – Erlanger Branch will host another "Fantabulous Incredible Family Nights" on Friday at 6pm.  Enjoy Spanish folktales and make an edible craft!  You are encouraged to register online.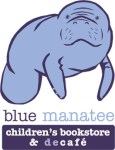 The blue manatee will host Dee Garretson, author of Wildfire Run for a book signing and discussion on Saturday at 2pm.
Saturday at the Kenton County Library – William E. Durr Branch, kids (6th Graders and older) and their folks can learn all there is to know about the beautiful art of quilting (10:30am) or learn to knit with Mary from Scarf it Up! (12pm).  In this hectic world, what a great way to keep these traditions alive!  Again, you are encouraged to register online for both events!
Go cheer on our local team as UC holds a pep rally Downtown on Friday 11am-2pm, the band, the cheerleaders, all the fun!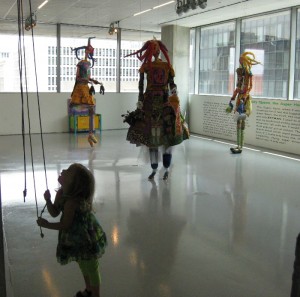 Sadly, Pam Kravetz's large marionettes will be leaving the Contemporary Arts Center soon.  Say goodbye this final weekend and enjoy Family Saturday at the UNmuseum from 1-4.  Artists will be on hand to help children make their own doll.

The Bengals are away this week, but don't let that stop us!  Join the Hudy's Tailgate on the Square Sunday.  Tailgating begins at 11am and once the action starts you can watch the game on the big screen overlooking the Square.  WHO-DEY!
FFC loves the Fitton Center for Creative Arts and Friday you can see why! This Friday's celebration begins at 7:30pm and will feature Mystic Drumz. $10 adult members, $12 adult nonmembers, $5 child members, $6 child nonmembers; 513-863-8873 or visit their site for more details.
For the Star Wars geeks, er, I mean lovers out there, Joseph Beth is hosting a Star Wars Family Fun Day on Saturday at 2pm.
Baby Box – I know I'm raising a diva, so why not put P's flair for the dramatic to good use, eh?  Clifton Performance Theatre is hosting an acting class for children ages 4-6 on Saturdays from 11am-12pm.  Your little one will be introduced to theatre terms and direction.  Cost is $12 – a small price to pay to BE A STAR! Call 513-861-SHOW (7469) or visit their site for more details.  Classes are also available for 7-14 year olds!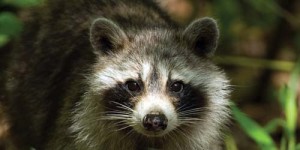 Watch out Sherlock Holmes!  Bring your curious critter  to the Seasongood Nature Center at Woodland Mound on Saturday at 2pm and they can help solve a CRIME perpetrated by a fury felon!  This program is recommended for kids ages 7 and older.
Nothing beats the smell of a campfire this time of year!  Head to LaBoiteaux Woods on the Westside Saturday at 7pm for a campfire complete for stories and marshmallows.  Call 513.542.2909 or visit their site for more details.
Coney Island becomes center stage for fall fun this weekend.  Join them for their annual FALL-O-WEEN Festival 12-6 Saturdays and Sundays through October 10th!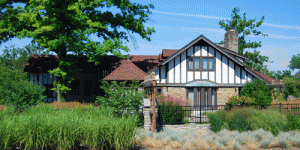 Enjoy a Luminary Tree Walk Saturday night at Glenwood Gardens Gatehouse. Guided walks begin at 7pm, but you need to sign up at the Gatehouse beginning at 6:30pm.  The lantern-lit woods will set the stage for a lovely hike.  Stations will be set up along the way where you'll meet a tree-spirit character and hear the legends and lore of the tree. Be sure to bring a roasting stick for marshmallows!
On Sunday, the whole family can try out their skills at Winton Woods Adventure Outpost for a Climbing Wall and Archery lesson.  Program runs 2-5 and you find more details on their site.
Sunday from 12-2, visit McFarlan Woods for a Fossil Dig!  Hear all about the rich geological history in and around Cincinnati.  Call 861-3435 for more information
To celebrate their newly renovated center, Sharonville Fine Arts Center will host a Family Movie Night on Saturday at 6pm.  Admission is a bargain at $1 – call 513-563-2895 for details or directions!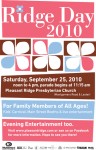 Ridge Day is Saturday in Pleasant Ridge.  Beginning with a parade at 11am and neighborhood festival complete with inflatables, face painting and more!  Visit their site for all the details!
Granny's Garden School will host a FRIENDraiser with Granny's Harvest Celebration on Saturday 1pm-5pm.  Get dirty, have fun and enjoy all the beauty of nature. There will be a scavenger hunt, plenty of food and frolic – all set with the gorgeous gardens as the backdrop.
So what did we miss?  If you know of a fun family-friendly happening, please leave it in the comments below and we'll add it to our list!  Have a super weekend folks!