A few weeks back a friend and I decided to take our children on a little road trip before school started.  We loaded up our minivans and made the drive to Indianapolis for a day at the Children's Museum.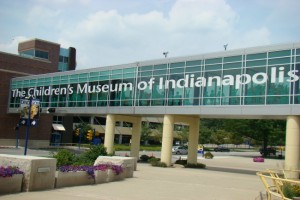 The drive is a fairly easy drive…straight roads, not many hills, and corn fields as far as the eye can see.  It took us two hours to reach the Museum.  I have not been to the Children's Museum of Indy since I myself was a child, and I had almost forgotten what a magical place it was!
The fun starts before you even get inside the museum.  From the parking lot you can see a dinosaur as tall as the museum with it's body standing in front of the museum, and it's head bursting through the window to look at the visitors in the lobby.  There's also a baby dino hanging out with the mama.  My kids were fascinated!  Sam is still asking when we get to go back to the dini-saur museum.  And that is just the beginning of the magic & adventure!  I don't even know where to begin in my description of the museum, there was just way too much to see.  We spent over four hours there and I feel like we still did not explore everything there was to explore!  Everything about this museum is child-friendly, touching is encouraged, hands on exploration is a must!  There is so much for the kids to do and explore here.
Instead of trying to tell you about everything there is to see, you are just going to have to trust me, and head up there with your children!  I will give you a bulleted list of our favorite things that we saw or did that day, to help you understand how very cool this museum is!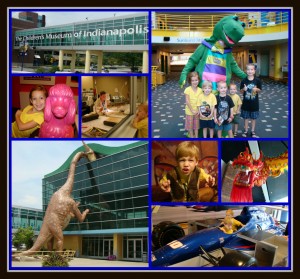 So there's a short list, a few highlights if you will.  But please don't think that this is all of the excitement in these exhibits I listed!  There is so much more to see, like the carousal, the tree house, the constructions site, the race car, the Chihuly glass sculpture, and the list goes on and on and on.  I want to leave a few surprises for you!
I hope that you take my advice and journey to Indy for a field trip with your children!  And if you have already been please leave a comment below telling us what your favorite thing was at the museum!
The Children's Museum of Indianapolis
3000 North Meridian Street   Indianapolis, IN 46208
| | | |
| --- | --- | --- |
| | Youth (ages 2–17) | $10.50 |
| | Adult (ages 18–59) | $15.50 |
| | Senior (60+) | $14.50 |
Youth under age 18 must be accompanied by an adult.
Youth will not be permitted to purchase admission or enter the museum without a chaperone.
Free Parking, see site for coupons, discount admissions, group rates, etc.  Please be advised, the Children's Museum of Indianapolis does not offer discounts for members of the Cincinnati Museum Center.