The summer is almost over…has your family had a chance to take a vacation this summer?If not, you should consider a trip to a Kentucky State Park! There are so many great parks out there, some close by, some farther away, some big, some small, there's something for everyone!Each year for Christmas my mother-in-law gives our family a gift certificate to the KY State Parks, which helps us pay for a mini-vacation.Because our family lives on one income we cannot afford to take big lavish vacations, so we opt for quiet getaways to our local State Parks.We look for parks that have cabins, because we like the convenience of having our own kitchen and living space instead of cramming our family of six into lodge rooms.My in-laws stay in the lodges when they visit state parks, and say that the lodges are often lovely as well.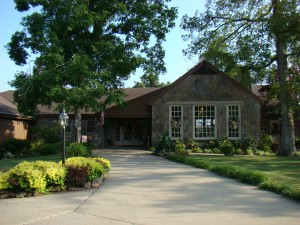 Every year we research which park would be the most fun to explore, and this year we chose Pennyrile Forest State Park in Western Kentucky.The park is about four hours away from Cincinnati (unless your navigator misses an important piece of information in the directions like I did, then it might be closer to five hours).The park sits in the midst of Pennyrile Forest and has a lodge and cabins (both one bedroom and two bedroom).They have cabins with wooded views, and cabins with views of Pennyrile Lake.We opted for a lake-view cabin, the only drawback being the 86 steps we had to take each day from our car to the cabin.But we decided that in the end the steps were totally worth it.We had a gorgeous view from our cabin, the lake was just steps away.We even had our own dock for the paddleboat we rented.You can rent pedal boats, row boats, canoes and even boats with trolling motors.Larger motorboats are not allowed on the lake (there is a larger lake about 4 miles away where you can have motor boats).The lake is pretty small, but we loved it.It is very quiet and peaceful.They have a swimming pool at the park, and it was fun, but most of our time was spent on the beach at the lake.The kids loved playing in the sand in splashing around in the water.I have always preferred lake swimming to ocean swimming, so I loved the peacefulness of this lake.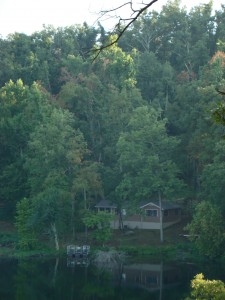 While we enjoy preparing our own food at the cottage we rent while we are at state parks, we usually have dinner at least once at the Lodge.The Clifty Creek Restaurant at the Pennyrile State Park was a very nice place for us to eat.The food was reasonably priced, and very tasty.Kids under 5 eat free with an adult!Bonus!
Around the resort there are many things to do: golf, tennis, swimming, arcade games, miniature golf, basketball, and playgrounds.  There are also over 20 miles of hiking trails.  Each morning while we were there the kids and I would take a hike after breakfast, and the trails were beautiful.  The resort also has a campsite and picnic grounds.  It's perfect for a quiet vacation getaway with the family or even a large family reunion.  In addition to all of the things you can do everyday at the resort, they also have special events throughout the year, such as a Kids Fishing Derby, Santa visiting the park, a Halloween Campout and much more!  If your family needs somewhere to go on a weekend getaway you should check out Pennyrile State Park.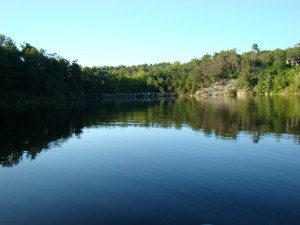 Pennyrile State Resort Park
20781 Pennyrile Lodge Road
Dawson Springs, KY 42408-9212
Telephone: 270-797-3421
Toll Free: 800-325-1711
Park Manager:  Peter Bowles