I've loved the Hamilton County Park system for years.  They are beautifully maintained, have wonderful amenities & programs and have so much to offer for families.  Best of all, you can enjoy any of the Hamilton County Parks throughout the year for free. You just need to purchase an annual parking pass (only $5 for a year – you can't beat that).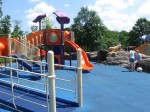 This weekend, we decided to head to Sharon Woods in Sharonville. Sharon Woods is one of my all-time favorite parks and each time we visit, we see or do something new.  This time, we headed to the newly renovated Ice-Aged themed playground area by the Harbor.  The playground has been revamped and it now offers a wet play area in addition to the regular playground equipment. There are covered shelters, benches and tables with umbrellas so you can find a shady spot for your home base.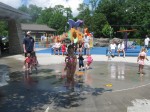 We I got our picnic packed, suits and sunscreen on the kids and we were off to enjoy the day.  We headed straight for the new playground area and my girls got excited when they saw the life-sized Mastodon as we headed into the parking lot.  We got lucky and scored a table under one of the covered shelters – it was great since we could see our kids but it also allowed Chris and I time to chat.  After the girls played for a bit, we decided to head to the Harbor and for the first time, we rented a paddle boat. They had both covered and uncovered paddle boats and the best part is that we could all fit in one since it had four seats.  We rented the covered paddle boat for an hour for $12.   An hour was the perfect amount of time for us. We were able to tour the lake and enjoy the beautiful scenery.  At one point, our girls took over the controls and the foot pedals while Chris and I relaxed in the back seat.  They could hardly reach the pedals but they loved it.  They also have row boats, pontoon boats, canoes and motorized boats to rent.  Life jackets are provided.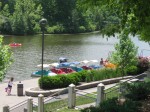 The 35 acre lake is surrounded by a 2.6 mile paved trail perfect for biking, hiking or roller blading.  If you forget your bike, you can rent one at the Harbor.  After, our paddle boat ride, we headed back to the playground for our picnic lunch.  After all that pedaling the girls were hungry and they actually ate all their lunch (bonus). We then treated the girls to soft serve ice cream from the onsite concession area.  It turned out to be a great family adventure.  Next time, we may even kick it up a notch and graduate to a row boat or a pontoon boat.
Beyond the wet play area and Harbor, Sharon Woods has so much more to offer.  For the golfer, the Sharon Woods Golf Course is a great course to play and they offer a Kids Play Free program where kids play free after 5pm on the weekends when accompanied by a paying adult (one free child per paying adult).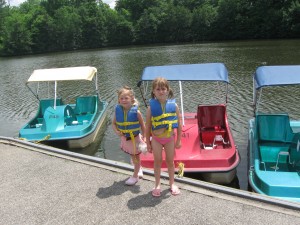 On the other side of the park, there is even more to explore with the Sharon Woods Nature Centre (free) and the Adventure Station indoor play area ($2.50/child). The Nature Centre hosts many free programs throughout the year and you can actually have a birthday party for your child here (we are having K's 7th b-day here this year – it includes a nature program, a party room and then playtime in the indoor play area and it's only $8/child – what a great deal).  Outside of the Nature Centre, there's a wooden playground – this one is great for the younger kids since it is on a smaller scale and is lower to the ground.  There are also picnic tables and grills so you can enjoy a picnic in the park.  The park has walking and hiking trails a plenty. Click here for their trail chart so you can plan your hike and you'll want to try the .7 mile Gorge nature trail.
Now, if you think that's all this park has to offer, you know I'm going to say we're not quite done.  Inside Sharon Woods there is a historic village showcasing life in the 19th century complete with houses, a train depot, a medicinal shop and more. It's the Heritage Village Museum and it is something to see. Admission is charged but it is well worth it (only $5/adults, $3/ages 5-11 and free/4 and under).  They also have educational programs, summer camps and special events throughout the year.  Click here for a listing of upcoming events.
Now, after all these great things I know you'll want to take your family to Sharon Woods.  They are located at 11450 Lebanon Rd. Sharonville, OH 45241 – Click here to Get Directions . Hamilton County Parks even offers a Family Passport coupon booklet for $10 (a $50 value) that has coupons for other great things in the Hamilton County Parks.