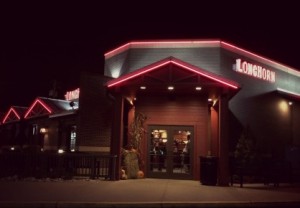 Last week we got a chance to check out the new 'Fall Into Flavor' menu at Longhorn Steakhouse in Cincinnati and I have to say, I am super impressed.  I had never visited a Longhorn Steakhouse before and wasn't sure what to expect, I can easily say that I was not disappointed.  The food and service were both amazing, and the interior of the restaurant was gorgeous.
We were invited to take part in a special dinner that was held to introduce some of the new menu items off of the 'Fall Into Flavor' menu and as a result got to taste quite a few amazing dishes.  I don't even know where to begin, so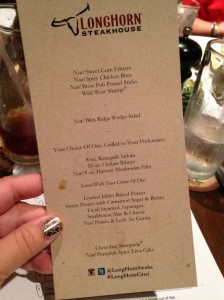 I'll just start by saying that this isn't your typical steakhouse fare.  With items such as Sweet Corn Fritters, Brew Pub Pretzel Sticks, Harvest Mushroom Filet, and Pumpkin Lava Cake…well, let's just say you won't have any trouble finding a dish to please every member of your family.
We got to taste 8 different dishes total and I would be hard pressed to choose my favorite. Appetizers were first, and I already can tell when we go back (and we will be doing that SOON) everyone is going to have a favorite.
My oldest son is going to love the Brew Pub Pretzel Sticks because he is a pretzel fan already, and these are soft on the inside, crisp on the outside, perfectly buttery and golden brown and have two excellent dipping sauces on the side.  My husband is going to go straight for the Spicy Chicken Bites because they are deliciously spicy and just slightly sweet, a perfect combination, and tender and delicious to boot!  My youngest?  He's going to love the Sweet Corn Fritters (and so do I) and the Wild West Shrimp…those shrimp are haunting me, so good!

This salad?  It's my new favorite and I am craving it as we speak: The Bleu Ridge Wedge Salad.  Crisp, fresh romaine lettuce heart with applewood smoked bacon, fresh fall tomatoes, red onions, and an absolutely delicious bleu cheese dressing.  I don't like bleu cheese.  Never have.  This salad though…it's changed me!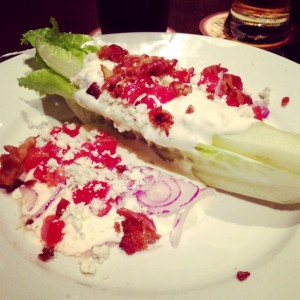 Entrees were a tough choice.  I went with the Harvest Mushroom Filet and I was not disappointed.  Perfectly cooked, perfectly seasoned..just perfect.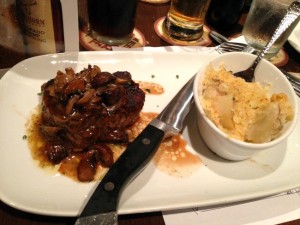 I got a peek at my neighbors Outlaw Ribeye steaks as well and they looked absolutely amazing!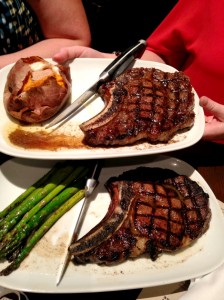 Did I mention dessert?  Chocolate Stampede and Pumpkin Lava Cake?  I went there..oh did I ever.  And it was AH-MAZ-ING!
The service was impeccable, spot on and friendly.  I was also very impressed with the interior design and decor.  It had a feeling of an upscale lodge, warm and appealing and very comfortable.  I wouldn't necessarily have thought of Longhorn Steakhouse as a date night destination but it definitely had a cozy and romantic feel to it and I can surely see my husband and I returning for a date night out in the near future.
I also know my kids are absolutely going to love it!  The kids menu is full of choices for even the most picky eater…kid sized steaks, hot dogs, mac and cheese…even grilled cheese!
What I was most impressed with is that this restaurant feels like a family place, not just another chain restaurant.  Our servers that evening said they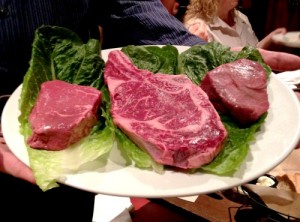 had been working there for many years, they even have employees who have been with the store since it opened!  We were treated like friends who had stopped by for dinner by everyone we met that evening, which was a nice change of pace.  Another super impressive fact — all of their proteins are fresh and never frozen. We even got a Steak 101 mini-class while we were there! Their amazing honey-wheat bread and baked potatoes are made fresh every 20 minutes.  Their steaks are seasoned with their secret seasoning blend, and then finished off with their signature lemon sauce which means that when it arrives at your table you never need to dress it up with steak sauce, unless you just like the flavor of it.  They are perfect just as they are presented.
All in all, I was mighty impressed with Longhorn Steakhouse and know that we'll be returning every soon…as a family, and as a couple on date night.  Fantastic service, delicious food, a gorgeous and relaxing atmosphere — Longhorn Steakhouse gets the FFC stamp of approval!
Look for a Longhorn Steakhouse near you by visiting their website: www.longhornsteakhouse.com.  You can also find them on Facebook, Twitter, and Instagram.
disclosure:  I was invited to attend this dinner and provided with a gift card to bring my family back for a return visit, in exchange for sharing information on the new #FallIntoFlavor menu details with you.  All opinions above are 100% my own.