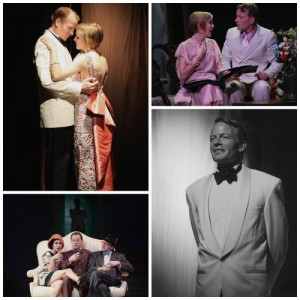 Last weekend the Cincinnati Shakespeare Company debuted their latest production, "The Great Gatsby" and Family Friendly Cincinnati was invited to see the show.  We loved our date night at the theater, enjoying some Gin Rickey cocktails, "Much Abrew About Nothing" beer from Christian Moerlein and complimentary appetizers from Elegant Fare.  It was a lovely opening night celebration and the show was just outstanding.  The performers shined in their roles, the set was eerie yet elegant, and the costumes made us wish we had dressed as flappers.  I loved this rendition of the Great Gatsby, and I highly recommend it to all of you.
 The Great Gatsby ::
Cincinnati Shakespeare Company officially opens their 2014-2015 season with the highly anticipated production of the Regional Premiere of F. Scott Fitzgerald's "The Great Gatsby" adapted for the stage by Simon Levy. This production is directed by Cincinnati Shakespeare's Producing Artistic Director, Brian Isaac Phillips and features Cincinnati Shakespeare's Resident Ensemble of actors including Jared Joplin, Justin McCombs, Sara Clark and Kelly Mengelkoch. The Ensemble is generously sponsored by BKD and Taft and the Design is sponsored by Legg Mason.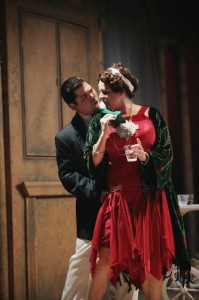 It is the height of prohibition and young Nick Carraway (Justin McCombs) has taken up residence in Long Island's "West Egg", home to the nouveau riche near his cousin Daisy Buchannan (Sara Clark). He is soon befriended by his neighbor, the mysterious Jay Gatsby (Jared Joplin), and is drawn into his glitzy, if garish, world of lavish parties and secret speakeasies. But as Gatsby's secretive past is uncovered and his intentions revealed, Nick finds himself a pawn in a love triangle so scandalous, it threatens to destroy all those around him. This American classic is a poignant examination of America in the early twentieth century, exploring the notions of love, morality, identity and the corruption of the American Dream. F. Scott Fitzgerald's best known and most beloved work, "The Great Gatsby" finally comes to the stage in this exclusive new adaption by Simon Levy.
Performances of "The Great Gatsby" are scheduled from September 5- October 4, 2014 on Thursday, Friday & Saturday evenings at 7:30pm and Sundays at 2pm with an additional Saturday matinee on Oct. 4. Preview performances are on Wednesday Sep. 3 and Thursday Sep. 4 at 7:30pm and tickets are $21. The theater is located at 719 Race Street, downtown Cincinnati, two blocks west of the Aronoff Center. Single ticket prices range from $22-$32 on Thursdays and Sundays and from $26-$36 on Fridays and Saturdays. This show is a part of the 2014-2015 subscription season. If available, $14 student rush tickets may be purchased 30 minutes before a show with a valid student ID. Visa, Discover, MasterCard, and American Express are accepted. Ticketing fees may apply. Discounts are available for students, seniors and groups as well as AAA members. To purchase tickets or for more information, call the CSC Box Office at 513.381.BARD (2273) ext. 1, or go online at www.cincyshakes.com.
Get your tickets now!  The shows are already selling out!
The Cincinnati Shakespeare Company is located at 719 Race Street, Cincinnati.
Cincy Shakes Photos by Mikki Schaffner