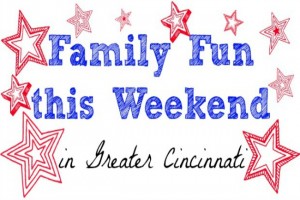 Memorial Day Weekend is here, which means that Summer Vacation is upon us!  I always consider this weekend to be the kickoff for summer, and rightfully so, because there's always a ton of stuff going on around town on this three day weekend!  Neighborhood pools are opening, Festivals are going on, Parades are happening all over town, and MORE!  And we have a full list of things going on around town to entertain your family this weekend!
Since it is a holiday weekend, we've expanded our weekend post to include Monday so we could share with you some of the events and parades going on around town this weekend to commemorate those who died while serving our country in active duty in the United States Armed Forces.
Family Friendly Things to Do in Greater Cincinnati this Weekend:
Friday ::
The talented students of SCPA invite you to spend your lunchtime with them in Washington Park. Every Friday from now until the end of October, students from grades K-12 will share their artistic, musical, theatrical skills with the rest of the world from Noon to 1PM. – See more at the Washington Park Website.
Saturday ::
City of North College Hill Memorial Day Parade   May 24, 2013    11 a.m., participants assemble 10 a.m. at Rose's Department Store.  This is a great opportunity to begin the Memorial Day weekend with one of the few parades held on Saturday.
Open House: Standing Portraits Sat, May 24   10am – 1pm   www.brazeestreetstudios.com     Brazee Street School of Glass   4426 Brazee St, Cincinnati, OH 45209     Parking is located behind the building     $15/figure    Bring the family to create one-of-a-kind fused glass family portraits! Design your own glass standing figures to look just like your family members. This is an open house style class, so join us anytime between 10am-1pm. No experience necessary. Ages 5+.
Family Festival    May 24, 2014 1:00pm-4:00pm    Contemporary Arts Center   44 East Sixth Street Cincinnati, Ohio 45202    Free with Admission or Membership, Admission free for children 5 and under    The UnMuseum is filled with musical installations. Let's break out our dance moves and get ready to make some art! We'll create musical instruments, decorate a party hat, and strike a pose for some Keith Haring dance inspired paintings. Don't forget to join us for a special interactive hip hop performance from Elementz: The Hip Hop Youth Arts Centerm at 2:00 pm. David Bowie said it best, "Let's Dance!"
Build It!    May 24, 2014 | 12:30 – 5:00    The Betts House    www.thebettshouse.org    416 Clark St, Cincinnati, OH 45203    $2    The Betts House, Ohio's oldest brick home, built in 1804, is proud to host a new exhibit, Build It!, which offers fun activities on construction concepts for children. The exhibit, on loan from archKIDecture of Chicago, consists of nine modules presenting architectural subjects including roofs, tools, and shapes. Build It! encourages children to interact with each module, either on their own or by collaborating with other children or adults. Designed for children age three to twelve, the exhibit promotes visual literacy with activities on shapes, color, and symmetries.
Princess Story Time    May 24, 2014 1:00pm-2:00    The Picture Party Place    Www.greenfaerieproductions.com    205 Main St., Milford    Free Event    Join us for Princess Story Time this Saturday at 1:00. We'll have stories and a sing along with our Princess.

Sunday ::
Spend the Day in Boone County ~ Visit Big Bone Lick State Park for Primitive Skills Day from 12:30-2:30pm.  Visit their website for more details.  And then you can spend the rest of the day exploring some of Boone County, get inspiration from this post:  Out and About in Boone County.
Old Main Street Spring Antique Show    May 25, 2014 9am-4pm    Waynesville Merchants Association    waynesvilleshops.com    Main Street, Waynesville, OH    free    Visiting Antique Dealers on Main Street in Waynesville, Ohio, Antiques Capital of the Midwest.  9am-4pm – rain or shine.  Vendors interested in information about booth rental should call 513-855-4315.
Monday ::
Park Hills KY holds an annual Memorial Day Parade which is wonderful for families. We have a wide variety of participants including local police & fire departments, political officials, antique cars, boy & girl scouts, veterans groups, and other fun entries. Candy is tossed and afterwards the city hosts a very nice flag raising ceremony to recognize our town's fallen military heroes. We have a historical military reenactment with gun salutes, a soloist singingperformance, and a speech by a local resident who is elected Grand Marshall of the parade based on his/her contributions to the community over the years. There is a bake sale and other refreshments available.  The parade begins at 11:30AM and ends at the flag raising ceremony. Everything is concluded around 1:30PM.

City of Walton Memorial Day Services:  Cemetery Service @ 9:30 am in Walton Cemetery followed by the Veteran's service at the Walton Verona Veterans Memorial.
The 2014 City of Fairfield Memorial Day Parade will be held on Monday, May 26. The parade will feature veterans groups, military units, the Fairfield High School Marching Band, community groups and organizations, the Fairfield Police Department, and Fairfield Fire and EMS units.  The parade will form in the parking lot of Express Scripts, located at 4865 Winton Road.  Access to the parking lot will be from the Winton Road entrance only. Starting at Express Scripts; left on Hicks; right on Nilles; left on Bibury; right on Wessel; ending at Fairfield Veterans Memorial Park.  The Hamilton-Fairfield Concert Band will be performing patriotic music and other favorites at Veterans Memorial Park from 10:00 am until 12:30 pm. The parade concludes with a brief ceremony at 11:00 am to pay tribute to our veterans, both past and present at Veterans Memorial Park. Guest speakers include representatives from VFW Post #1069 and City of Fairfield Mayor Steve Miller.
All Weekend Long ::
Kings Island is offering FREE entrance to the park for all military personnel, both active and retired all weekend long!  Bring your Military ID with you to get in FREE and to purchase discount tickets for your family.  Check out theKings Island Website for more details.
Coney Island is also offering free pool AND ride tickets for Military Personal May 24-26.  Visit the Coney Island website for details.
Feeling Hungry?  Hit the Taste of Cincinnati ~ Memorial Day Weekend, May 24-26 Downtown Cincinnati http://www.tasteofcincinnati.com/  With all the great restaurants participating you are sure to find the perfect meal for every appetite!
Farmers Markets: Warm weather means that it is Farmers Market Season! Find a market near you, or try a new one in a different neighborhood, either way you are sure to find fresh produce and other delicious and healthy things to feed your family. Here's our line up of some of the great Farmers Markets in Northern Kentucky and Cincinnati : http://www.familyfriendlycincinnati.com/2013/05/09/farmers-markets-in-cincinnati-northern-kentucky/
Spring Grove Cemetery has a multitude of Memorial Day events going on all weekend long.  Visit the Spring Grove Cemetery website for a complete list of events.
Butterflies of Costa Rica at Krohn Conservatory    April 12 – June 22, 2014    Krohn Conservatory    http://www.cincinnatiparks.com/krohn    1501 Eden Park Drive    $7 adult, ages 5-12 $4, 5 and under FREE    This year's show is going to be amazing…and has expanded into all rooms of the Krohn Conservatory…the butterflies will still be in the Main Showroom but the culture and beauty of Costa Rica will be reflected in the others exhibit rooms as well…like LIVE birds, fish and reptiles, a "cloud forest" … and an oxen cart, painted in the traditional Costa Rican village style, greeting each visitor as they arrive. Both in and out of the Krohn, visitors will be able to enjoy the "Pura Vida" of Costa Rica.  On Memorial Day, all active military and veterans get free admission.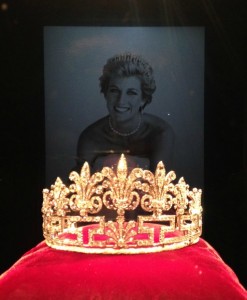 Cincinnati Museum Center:: Diana, A Celebration.  We had the chance to preview this event and it is FANTASTIC!  For any Diana fans and lovers of royalty, it is a must see!  More than 15 years after her death, Princess Diana's memory still stirs interest and emotion. The award-winning exhibition Diana, A Celebration, which chronicles the life of the late Diana, Princess of Wales, will be on display at Cincinnati Museum Center from Feb. 14 through Aug. 17, 2014. This is the final showing for the renowned exhibition, which has been touring the world since 2003, before the items return to her sons in England to be preserved for future generations.
Do you have a weekend event you would like to share?  Simply submit it with this easy online form and we'll add you to our post!  http://bit.ly/cincyweekendcalendar