Now that spring is almost here it's time to start thinking about summer and summer camps. There are so many great options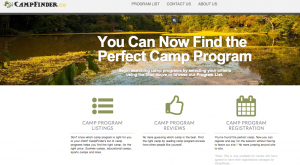 around Cincinnati that it can be overwhelming and difficult to find the right one with no one central resource dedicated to camps…. until now. You can now visit the new Greater Cincinnati camp resource, CampFinder.Co.
CampFinder.Co is a new website that aims to make finding the right camp for your child easy. They have an enormous database of camps- over 260 in the Cincinnati area alone- and several ways to narrow your search.  Probably the best feature is that it's one site for every camp you can think of. That means you can look up drama camps for the actor in your house in the same place you research sports camps for your budding athlete, then find the perfect overnight camp for both of them.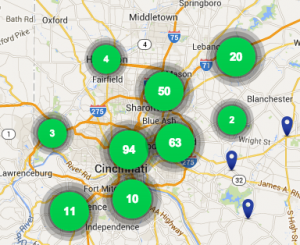 Another great feature is the map view of camps. After narrowing your choices to the Cincinnati region, you can see where each camp is on a map. This is great for making sure you don't fall in love with a camp that's 45 minutes away. There are also options to select ages, program types, months and maximum prices.
Once you find a camp you like, the camp profile page has pictures, a description, dates, contact information, pricing and even reviews.
In addition to its website, you can also check out CampFinder on Facebook and Follow them on Twitter for updates on new listings, as well as great tips and insights about finding the perfect camps for your child. Lastly, they also have a great eNewsletter they'll be sending out with updates on new listings, specials and more.
To celebrate the launch of CampFinder.co organizers have given us a camp session to giveaway, right here on FFC! That's right, we have a free week of Sports of all Sorts Summer Slam Day Camp so you can treat your child to the camp experience!
Here's a little about Sports of All Sorts:
Sports of All Sorts located off Mt. Zion Road. The Mt. Zion complex has four basketball courts, eight smoke free bowling lanes, video games, a multi purpose room and a fitness center / health club. Sports of All Sorts remains committed to offering Northern Kentucky and the Tri State area the very best in wholesome family entertainment.

Their mission is to provide Northern Kentucky residents the very best in wholesome family entertainment through our state of the art facility, promoting both family fun and fitness. They remain committed to being on the cutting edge of sports management from fitness staff as well as their offerings to youth and adult leagues and activities.
 GIVEAWAY CLOSED. Congratulations to FFC reader Dara E! 
Disclosure: Shannan works with CampFinder.co to promote their website as a resource for parents.