It may be colder this weekend than last weekend, but don't let that stop you from getting out of the house and finding something fun to do!  Need inspiration?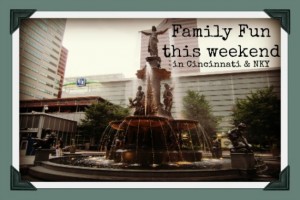 We've put together a list of top notch family-friendly activities going on around town this weekend!  You can either bundle up and head outdoors to the Zoo or Perfect North, or choose one of the fabulous INDOOR activities going on!
And for Mardi Gras fun, check out the Family Friendly Mardi Gras post!
Top Weekend Pick: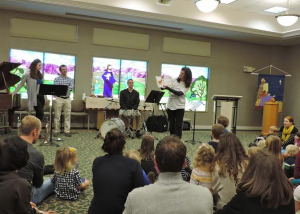 Saturday, March 1 – Linton Peanut Butter & Jam Sessions' We've Got The Beat, Winter Concert at Mt. Washington Presbyterian Church, performances at 10am & 11:30am. Providing children, ages 2 to 6, and their families the opportunity to enjoy classical music together. This concert series is educational, entertaining, interactive and fun! Tickets are $5 and available at the door, by phone 513.381.6868 or click here to order online.
Friday ::
Penguin Days at the Cincinnati Zoo and Botanical Gardens.  Bundle up and save a bundle with half price admission and parking. Deal lasts through February 28, 2014.  Visit the zoo website for more info: http://cincinnatizoo.org/events/
Winter Family Days at the Newport Aquarium ~ Friday, February 28 is the LAST DAY!  Kids 12 and under get in FREE (two children get in free with each paying adult).  Tickets can be purchased at the Aquarium, online or by phone.  Head to Newport Aquarium to see Snowball & Snowflake, the two new white alligators.   The Aquarium will open one hour earlier (9 am) on Saturdays & Holiday Weekends through the end of February.  Visit the Newport Aquarium Website for all of the details.
Techno Jewelry ~ Kenton County Public Library Covington Branch, 502 Scott Boulevard. (859) 962-4060  Techno Jewelry Grades: 6 – 12 Friday, March 14, 4:00 pm-5:00 pm Create jewelry out of recycled techie things.
Bad Movie Nite: Sharktopus ~ Kenton County Public Library ~ William E. Durr Branch, 1992 Walton-Nicholson Road, Independence (859) 962-4030  ~  Grades: 6 – 12 Friday, March 7, 6:00 pm-8:00 pm Join us as we watch a movie (rated up to PG-13) everybody loves to hate! With snacks!
Saturday ::
Celebrate
Read Across America Day
at the Cincinnati Museum Center with activities all around the museum.  You can sign up for your very own library card, attend storytime, hang out with Joel the Singing Librarian, listen to
Ashley Scribner
read Findlay: A Cincinnati Pig Tale,
and more!
SOG Kids: Rainbow    March 1, 2014 1:30-2:30pm    Brazee Street School of Glass    brazeestreetstudios.com    Brazee Street Studios    $30/student    Get ready for Spring! Join us to create a rainbow of your own design, using a variety of beautiful, vibrant Bullseye Glass materials in every color. No experience necessary. Ages 5+
Irish Music Concert This Weekend ~  Musical group Cincinnati Harpers Robin will be performing a concert of traditional tunes from Ireland, Scotland, Wales and other Celtic lands this Saturday, March 1 at 1 p.m. at the Covington branch of the Kenton County Public Library. The concert is free and open to all ages.  This event kicks off a month long celebration of all things Irish at the Kenton County Public Library.  To see what other fun stuff they will be doing, along with St. Patrick's Day Events all over town, see the Family Friendly Cincinnati St. Patrick's Day Post!
We've Got the Beat!    March 1, 2014  10am & 11:30am    Linton Music's Peanut Butter & Jam Sessions    www.lintonmusic.org     Mt. Washington Presbyterian Church 6474 Beechmont Avenue, Cincinnati, OH 45230     $5 for an individual ticket or $15 for a book of 4 tickets; Children under 2 are free!    Come clap your hands, stomp your feet and learn about rhythm while you feel the beat! The trumpet, piano and drums will provide a variety of musical treats! During PB&J performances, children are invited to sit on the floor, close to the performers, allowing them to be "part of the action."  An educational coordinator hosts each concert, leading dances, beat patterns, songs, and question & answer sessions to guide and enhance the experience for children and their families.  At the end of the concert, we invite you to meet the performers and get an up-close introduction to their instruments.
Hold On Talent Slam    March 1, 2014 7:00PM    Epiphany's ASAP    http://www.lovelandmagazine.com/art_and_cultural/    New Hope Baptist Church    free    The Hold On Talent Slam for teens 7th-12th grade will be on March 1st at 7 PM in the gymnasium at the New Hope Baptist Church at 1401 Loveland Madeira Road. Doors will open at 6 PM and there is no reserved seating or tickets required.  Loveland area organizations, businesses, and churches sponsor the showcase of talent to honor teens who are passionate about, and work hard to craft their performance art. Performers will compete for $3500 in cash prizes.  The event is free and open to the public, and parking is free at the church. Numerous door prizes, such as dinners at Loveland area restaurants, are awarded to the audience throughout the evening. The audience will enjoy light snacks provided by local eateries.
March Family Open House: Mini Sun-Catchers    March 1, 2014 10am-1pm    Brazee Street School of Glass    brazeestreetstudios.com    Brazee Street Studios    $15/Sun Catcher    Celebrate Spring with us! Join us any Saturday in March to design and create a hanging Mini Sun-Catcher using a variety of Bullseye Glass materials. Open to all students ages 5+, so bring the entire family any time between 10am-1pm.
Sunday ::
Puppy Tales ~ Kenton County Public Library ~ Covington Branch, 502 Scott Boulevard. (859) 962-4060 ~Kindergarten – 6  Sunday, March 2, 2 -4 pm
Come read to a real dog, earn a certificate and enter a raffle to win your own toy reading companion. Drawings are held twice a year in June and December.
 All Weekend Long ::
Perfect North Slopes ~ Do you love this winter weather?  Take the family to Perfect North for skiing,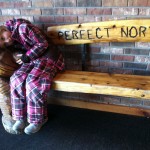 snow-boarding or tubing.  Read this post about Perfect North by FFC's Phyllis M. to see why we love to take our families there.
Avant Garden 2014 Spring Show at Krohn Conservatory opens on Saturday, January 18 and runs through March.  Exotic spring bulbs, fragrant shrubs, and bright annuals are paired with creative recycled displays to create an "avant garde-n" to delight the senses.  Escape the cold, snowy Cincinnati streets and let the warmth and beauty of the Spring 2014 Krohn display take you away to warmer climes!  Adults $4, children (5012) $2 and under 4 free.
Floral Fantasy Competition    Saturday and Sunday, March 1-2 10 am-5pm    Krohn Conservatory    cincinnatiparks.com    Krohn Conservatory    Free with admission ticket      At the Spring Show, enjoy an Avant Garden Floral Arrangement Competition and get a chance to vote for your favorite and most creative arrangement.
This special event is included with admission ticket.  Adults $4 • Youth (5-12) $2 • Children (4 and under) FREE For more information, call 513.421.5707
 Cincinnati Museum Center:: Diana, A Celebration.  We had the chance to preview this event and it is FANTASTIC!  For any Diana fans and lovers of royalty, it is a must see!  More than 15 years after her death, Princess Diana's memory still stirs interest and emotion. The award-winning exhibition Diana, A Celebration, which chronicles the life of the late Diana, Princess of Wales, will be on display at Cincinnati Museum Center from Feb. 14 through Aug. 17, 2014. This is the final showing for the renowned exhibition, which has been touring the world since 2003, before the items return to her sons in England to be preserved for future generations.
Date Night:  Rosencrantz and Guildenstern are Dead at Cincinnati Shakespeare Company. The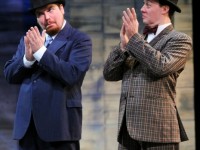 Cincinnati Shakespeare Company is located at 719 Race Street, Cincinnati.  You can find important details about tickets, shows, parking and more on the Cincinnati Shakespeare Company website.
Looking for more"Date Night" ideas? May we suggest Broadway in Cincinnati's EVITA? The folks at Broadway in Cincinnati invited us to see it earlier this week and it was breathtaking. See what FFC's Michelle H. had to say about the performance: http://bit.ly/1gnYCNX
Cincinnati Home & Garden Show    March 1 (10:30 a.m. – 9 p.m.), March 2 (10:30 a.m. – 6 p.m.), March 5 (noon – 8 p.m.), March 6 (noon – 8 p.m.), March 7 (noon – 9 p.m.), March 8 (10:30 a.m. – 9 p.m.) and March 9 (10:30 a.m. – 6 p.m.) ***Show is closed Monday and Tuesday, March 3-4.    Hart Productions    www.hartproductions.com    Duke Energy Convention Center    $13 adults, children 13 and under are free with a paying adult.    "The Cincinnati Home & Garden Show® presented by the Cincinnati-Northern Kentucky Honda Dealers, the area's largest and longest-running spring showcase, returns March 1-2 and 5-9 to Duke Energy Convention Center. The show has expanded once again with more than 410 exhibitors, of which 144 also offer green products and services.  The Go Green Cincinnati Show℠ and The Garden Market℠ will once again run in tandem with the Cincinnati Home & Garden Show®.  The Go Green Cincinnati Show℠ returns for its second year at the show, featuring dozens of companies that offer sustainable products and services. The Garden Market℠ will continue to feature a wide variety of specialty retailers and boutiques that will be displaying unique garden accessories, décor, jewelry, gifts and more.