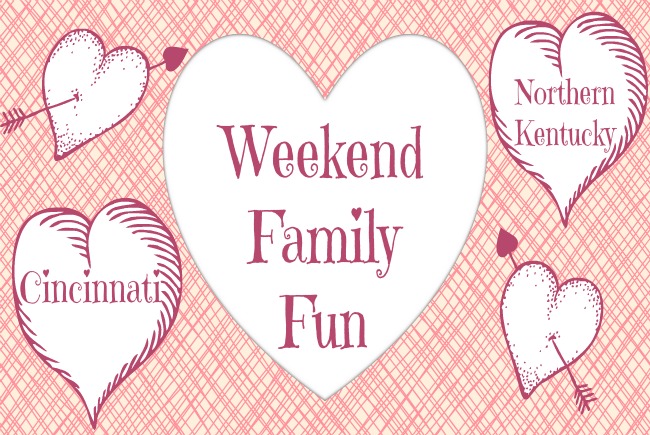 It's the weekend!  Let's get out and have some fun!  We too many snow days this week, so we have some very fidgety kids, ready for something fun to do!  We've put together a list of activities and events going on around town this weekend to make it easy for you to plan your days.


At the top of this week's weekend list is one of my personal favorites, the Macy's Arts Sampler Weekend, on Saturday, February 8th.  This is an outstanding happening because it offers FREE artistic experiences all over town!  The list of FREE arts events going on around town on Saturday is just too huge to share here in this post, but you can go to the Macy's Arts Sampler website to check out the schedule (they even have a handy dandy app!).  And be sure to read the Family Friendly Cincinnati Macy's Arts Sampler post to learn more about this fantastic opportunity.  Here's just a small sampling of the events going on Saturday where you can take the family to explore and experience the arts <FOR FREE!> :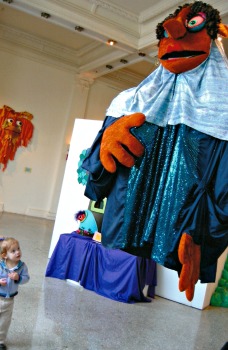 Madcap Puppets' Fantastic Fairytales, 11:30 a.m., 1 p.m. and 2:30 p.m., Cincinnati Art Museum
Backstage tours of the Cincinnati Playhouse in the Park, every half hour from 9 a.m. until 1 p.m.
The exhibitions Grammatical Errors by Melissa Vogley Woods, Long Moments by Ron Kroutel and Cities by Joel Whitaker, Weston Art Gallery downtown, opening at 10 a.m.
My Nose Turns Red Circus, The Character Building (formerly Old Schroder High School), 2 p.m.
Linton Music's Peanut Butter and Jam Concert: We've got the Beat, Clovernook Center for the Blind and Visually Impaired, 10 a.m. and 11:30 a.m.
Sing in Sign and Take a Tour, Ensemble Theatre of Cincinnati offers lessons in learning a song in sign language with backstage tour to follow, 11:30 a.m.
Bach and Boombox with Nat Chaitkin, Kennedy Heights Arts Center, 12:30 p.m.
VSA Kentucky Side by Side Exhibition presented by New Perceptions/Rising Star Studios, Newport on the Levee, 1 p.m.
Family Friendly Things to Do in Cincinnati & NKY ::
Thursday ::
Smile, Pout Fish    Feb 6/ 11am-12pm    Blue Manatee Bookstore  free    Meet Pout-Pout Fish and swim along with him! Join us for a reading of the newest book in the series, "Smile, Pout-Pout Fish" and get your picture taken with the star of the book!
Friday ::
Barbara Bailey Hutchison: The Kid's Show    February 7, 2014    Fairfield Community Arts Center  $5-$7    Grammy Award winning singer-songwriter, Barbara Bailey Hutchison and her music, captivate the young and young at heart. There is much interaction between Barbara and her audience. Together they sing and clap, laugh and learn. Her approach is "in your face" high energy fun, with almost every song inviting willing participation. Her music carries an underlying message of tolerance, acceptance, and the celebration of diversity.
Saturday ::
Nature's Love Notes    February 8, 2014 10:30am-noon & 1:30-3 pm    Civic Garden Center   2715 Reading Road, Cincinnati, Ohio 45206    $5 per participant    Want to make something special for Valentine's Day? There are so many ways to celebrate those we hold dear. We'll get creative making cards and fun crafts to share.
We've Got the Beat!    February 8, 2014  10am & 11:30am    Linton Music's Peanut Butter & Jam Sessions  Clovernook Center for the Blind & Visually Impaired 7000 Hamilton Avenue, Cincinnati, OH 45231     FREE ArtsWave Sampler Concert!! Come clap your hands, stomp your feet and learn about rhythm while you feel the beat! The trumpet, piano and drums will provide a variety of musical treats! During PB&J performances, children are invited to sit on the floor, close to the performers, allowing them to be "part of the action."  An educational coordinator hosts each concert, leading dances, beat patterns, songs, and question & answer sessions to guide and enhance the experience for children and their families.  At the end of the concert, we invite you to meet the performers and get an up-close introduction to their instruments.
NKU Men's Basketball vs USC Upstate Saturday, February 8th at 7pm.  Special promotions for the evening:  Coaches vs. Cancer presented by the American Cancer Society, Most Valuable Kids Night, NKU Jazz Ensemble at Halftime, Shoot Around Saturday: shoot on-court post game and receive team autographs!  For more information about NKU Basketball Games read the Family Friendly Post about the fun we had at a NKU game!
Kite Fly at Voice of America Museum with PIGS Aloft! What is PIGS Aloft? It's actually the PIGS Aloft Kite Club. That's People Interested in Getting Stuff Aloft ~ a group of kite enthusiasts playing with the wind! Everyone is welcome to join in! You, your friends, family, co-workers, neighbors and acquaintances are always welcome! We fly kites in front of the VOA Museum on the second Sunday of the month (weather permitting) from 12 until 5 pm. We are available for kite festivals, educational programs and kite-making workshops for children and adults. For more information, contact Joe & Debbie Von Bokern by e-mail at jdvonbokern@fuse.net.
Kids+Me: Love Bowl    Feb. 8, 2:30-4    Brazee Street School of Glass   $35  "Happy Valentine's Day! Show your love by creating a LOVEly candy dish for that special someone. Choose a color background and use a variety of Bullseye Glass materials to design a one-of-a-kind bowl just in time for the holiday. No experience necessary.
Open House- Valentines    Feb 8, 10am-1pm    Brazee Street School of Glass   $15/valentine    Bring your mother, child or loved one to create an original fused glass valentine coaster and create glass art together! Join us between 10am-1pm for an Open House style valentine workshop. We will have custom valentine pattern sheets and glass accessories for your 4×4" fused glass valentine! No experience necessary. Ages 5+.
SOG Story Time: A Penguin Story    Feb 8, 1:30-2:15    Brazee Street School of Glass  $18    Ages 3-6 Bring your little one to create art in our glass art story time! This month, we'll read ""A Penguin Story"" by Antoinette Portis, then your young artist will create a pair of standing penguins of their own. Story followed by a fused glass art activity for your budding artist. Students will use our safe glass components to create two fused glass penguins inspired by the story.
Lil Beardos Big Top Circus    Feb 8th 2014 12:30-5PM    Circus Mojo  322 Elm St Ludlow, KY    FREE    FREE! Circus Mojo and Whispering Beard presents. Live music from Mac & Joe Trio and others. Interactive circus workshops. Highwires, stiltwalkers, jugglers, acrobats and aerialists, crafts and parade. Parents and children will be able to go backstage and paint their faces and get into costumes for the parade. Parade will start at 4:30 pm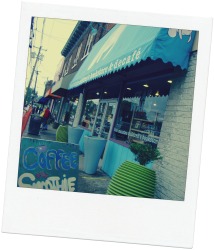 ManaTots at blue manatee    Saturdays  9:30am     blue manatee children's bookstore and decafe   3054 Madison Road Cincinnati, OH 45209 Free, children up to age 4    Stories, songs and fun
Valentine's Day Cards and Crafts for Kids    February 8, 2014  2 p.m.    Public Library of Cincinnati and Hamilton County   Madisonville Branch, 4830 Whetsel Ave.,     Free    Children can make a Valentine's Day card and other fun crafts for someone they love. No registration required. Madisonville Branch, 4830 Whetsel Ave., 513-369-6029.
Book! Craft!  February 8, 2014  3 p.m.    Public Library of Cincinnati and Hamilton County  Miami Township Branch, 8 North Miami Ave.,     Free    Enjoy a reading of Alison Jackson's ""The Ballad of Valentine"" and become inspired to create a Valentine for someone special! All materials provided. No registration required.Miami Township Branch, 8 North Miami Ave., 513-369-6050.
Sunday ::
Sensory Sunday: Stories, Songs and Fun for you and your Little One    February 9, 2013 | 2:00pm – 3:00pm    Shalom Family Gymboree, 6209 Snider Road, Mason, OH 45040    FREE    These private interactive play groups take place on the second and fourth Sundays of each month, featuring the popular Miss Meliss, who keeps babies and their parents engaged and entertained with her unique brand of fun. Play dates are open to families in the Jewish community with children two years and younger in which at least one parent is Jewish. The programs are free and always include a snack. Plus, two families will each win a $50 Target Gift Card at every event! Dates and times are subject to change, please check myshalomfamily.org for updates and to RSVP. Sensory Sunday is a program of Shalom Family, an initiative of The Mayerson Foundation.
Valentine Party at Kenton County Public Library/Erlanger co-sponsored by the City of Erlanger! The City of Erlanger will co-sponsor a Valentine Party with the Erlanger Branch of the Kenton County Public Library on Sunday, February 9 from 2 pm until 3:30 pm featuring Goldie the Clown with balloon sculptures, kids games and crafts. This is a free event and all are welcome to attend. For more information, call Karen Mofitt at (859) 727-2525 ext. 1 or by e-mail at karen.moffitt@cityoferlanger.com.
If you are hungry after all of your weekend fun, take a look at our Best Burgers in Cincinnati & Northern Kentucky post and maybe take the family out for burgers at one of the many great choices on the list!