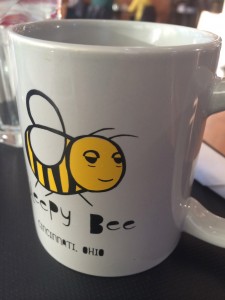 Brunch is becoming extremely popular these days, so it's perfect timing for Sleepy Bee Cafe, a new breakfast and lunch restaurant now open in Oakley. We recently got a chance to have breakfast at Sleepy Bee and it was delicious*.
The breakfast menu has tons of options from omelets to breakfast sandwiches to gluten free and buttermilk pancakes. Sleepy Bee is dedicated to serving pesticide free, non-genetically-modified foods and ingredients are from regional farms including produce, meats and dairy products that are organic and hormone free when available. The menu changes based on the season to use the freshest ingredients.
I tried the Nutty Bee cakes and they were fabulous. The three huge gluten free pancakes were made with almond, quinoa and buckwheat flour, topped with chocolate, peanut butter and bananas and served with a side of honey. I could only finish half of them which means leftovers!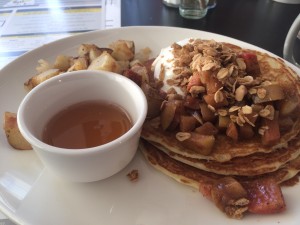 Shannan tried the Apple Cakes – buttermilk pancakes with caramelized apples, whipped cream and house-made granola. Hers were lighter than mine, and just as good. She said the granola added a nice crunch. Of course we also had coffee in their custom mugs with the sleepy bee on them.
There's also a great kids menu with pancakes, eggs, grilled cheese and more. The menu has a word search, maze, fun facts and other games to keep kids entertained while waiting for their food.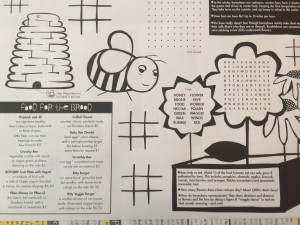 The restaurant itself is bright and a fun place to be. Bee inspired art from Brazee Street Studios and C|LINK artists covers the walls and all the tiles were fired at Brazee Street Studios. Other unique touches include a custom flower chandelier over the coffee bar and a bee hive inspired chandelier in the back room (both also made at Brazee Street).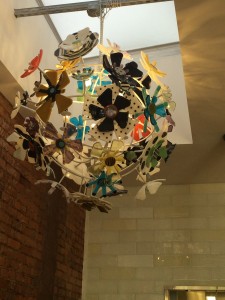 Owners John Hutton and Sandy Gross are longtime Oakley Business owners. John, also a pediatrician at Cincinnati Children's Hospital, runs blue manatee bookstore and Sandy runs Brazee Street Studios just a few blocks away. Chef Frances Kroner, creator of Random Snacks of Kindness and founder of feast, is focused on making creative dishes using fresh ingredients.
I'll definitely be back soon to try their lunch options!
Sleepy Bee Cafe is located at 3098 Madison Road, Cincinnati, OH 45209.
Learn more on their website, Facebook Page, or on Twitter.
*Disclosure: FFC's Shannan B. works with Sleepy Bee Cafe and we attended a soft opening event. All opinions expressed above are 100% our own.