Halloween Happenings in Cincinnati & Northern Kentucky

Halloween is just around the corner and we've put together a list of hauntingly fun Halloween Activities all over our region!  By now you've seen our fabulous

Family Friendly Fall Festivals and Farm Fun in Greater Cincinnati

post.  It's full of fun things to do to celebrate fall…festivals, apple picking, pumpkin parties and more!  THIS post will focus on all of the HALLOWEEN things going on!  Costumes, Haunted Houses, Spooky Stories, and MORE!!  We've put together a list that should please ALL ages, and ALL scare levels.  Do you have older children or thrill seekers in your family?  Or perhaps your kids are more interested in watching elephants play with pumpkins?  There's all sorts of fun Halloween events to choose from, just pick the ones that are right for your family!
Family Friendly Halloween Happenings in Greater Cincinnati ::
Cincinnati Parks Magic Forest Halloween Hikes ~ October 18&19 at Caldwell Nature Center.  Reservations required.  This non-scary halloween walk is perfect for children ages 3-10, and the cost is $5, children 2 and under are free.  Hike lasts one hour.
Pipsqueak Halloween at the 20th Centure Theater on Sunday October 27th.  Doors open at 10:30 am, $7 per person.  There will be a Madcap Puppet show, cookie decorating, face painting, crafts and MORE!
Kenton County Public Library:
There will be Halloween storytimes at all three branches the last week of October. Check the calendar for details: http://www.trumba.com/calendars/kcpl.
Covington Library:

Classic Monster Films ~ Teens – grades 6-12 ~ "The Wolf Man" will be shown at 1 p.m., followed by "Dracula Has Risen From the Grave."
Zombie Prom ~ Grades 6-12 ~ Saturday, Oct. 19, 7-9 p.m. ~ Dance with the undead at the Teens only DJ dance party. Costumes appreciated, prizes awarded. Permission slips required for this after-hours event.
Haunt Your Library Contest ~ Grades 1-6 ~ Sept. 9-Oct. 11 ~ Enter an original poem or tale in the Library's annual spooky writing contest. Winners will be announced and awarded prizes on Oct. 18. Winning stories will be featured in the Community Press. Submit entries to writingcontest@kentonlibrary.org. Entries must include child's name, age, address, phone, email address, school and grade level. Include a photo if possible.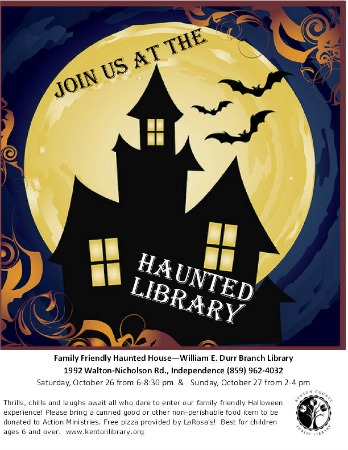 Durr Branch Library:
Haunted Library ~ Ages 6 and up ~ Saturday, October 26 from 6-8:30 p.m. and Sunday, Oct. 27 from 2-4 p.m.  Thrills, chills and laughs await all who dare to enter our family friendly Halloween experience. Please bring a canned good or other non-perishable food item to be donated to Action Ministries. Free pizza from LaRosa's.
Boo Bash ~ Ages 2-6 and a parent ~ Wear your costume if you'd like for games, crafts and treats. Registration required by calling 962-4032.
Erlanger Branch
Pumpkin Decorating ~ Friday, Oct. 25 from 6-8 p.m. ~ Decorate your Halloween pumpkin at the Library. We will supply pumpkins for carving and painting, as well as carving tools, paint and decorations. While supplies last.
Homeschool Costume Fun ~ Ages 3-12 ~ Friday, Oct. 18 at 10:30 a.m. ~ Choose your favorite book characters and create your own costumes out of materials provided by the library.
Ghostly Halloween ~ Ages 6-12 ~ Sunday, Oct. 27 from 2-3 Join us for not-so-gruesome Halloween stories, crafts and snacks.
Halloween party ~ Ages 0-12 ~ Tuesday, Oct. 29 at 5 p.m.  Come in costume to trick or treat in the Library. Co-sponsored by the Erlanger Parks and Recreation Department.
Friday Night Fright Night at Washington Park ~ pack some snacks and head downtown to watch a spooky movie on the lawn at Washington Park.  Check out their website for show dates, times and titles.
Trunk or Treat at Florence United Methodist Church, Sunday October 27th from 5-7pm
Halloween Costume Contest on Fountain Square on October 31st from 11:30am until 1pm.  GREAT prizes for adults AND kids!
HallZOOWeen at the Cincinnati Zoo ~ Weekends in October from Noon until 5pm  Free with ZOO Admission.  This has to be one of the most interesting places to trick or treat with the family!  There are so many activities going on and fun things to do while you trick or treat throughout the zoo.
American Legacy Tours offers haunted tours of Newport, Cincinnati and Covington.  Some of the FFC writers went on the Haunted Covington Tour last year with their families and loved it! Check out their website for all the details.
BatFest at the Cincinnati Museum Center on Saturday, October 26th ~ spend the day at the museum learning all about bats and taking part in some fun "batty" activities!
It Came From The Sewer ~ Halloween-Themed Tours of Dry Creek Wastewater Treatment Plant!  October 23 & 29 – here's nothing scarier than being responsible for treating 34 million gallons of sewage every day, except for what could happen if SD1 isn't able to treat this sewage. From 5 until 7 pm on Wednesday, October 23 and from 10 to 11 am on Saturday, October 26, SD1 will be hosting tours of the Dry Creek Wastewater Treatment Plant. Reservations are required. Tours will take visitors thru each step in the wastewater treatment process with a fun and interesting Halloween twist. Tours will also highlight the scary items that have an impact on the treatment process and simple tips the public can follow to protect their homes and public health. The Dry Creek Wastewater Treatment Plant is located at 2999 Amsterdam Rd. in Villa Hills, KY 41017. For reservations, call Valerie Forsyth at (859) 578-6894 or email info@sd1.org. For ages 7 and up; some parts of the tour may not be handicapped accessible.
Halloween Walk in the Woods at Blue Ash Nature Park, Saturday October 26th 12-3pm.  Ages ten and under, FREE.  Wear your costumes, meet Mother Goose & Friends, see a magic show, do some crafts and more fun stuff!
Halloween Fall Brawl (and MUCH More) at Pioneer Park! P.A.R., or People Advocating Recovery will present a Halloween Fall Brawl Christian Wrestling Entertainment event at Pioneer Park on Saturday, October 26. Bell Time: 2 pm. Additional activities and entertainment include a Haunted Trail and Trunk-Or-Treat at 5 pm. Wear your costumes! Decorate your trunk! Prizes will be awarded for best decorated trunk! Pioneer Park is located at 3951 Madison Pike in Ft. Wright, KY 41017. P.A.R. is presenting the Halloween Fall Brawl to raise awareness and to promote recovery for the heroin epidemic in NKY. P.A.R.'s mission is to educate and to make resources available to the communities of Northern Kentucky. Please come out and support P.A.R. and have fun with your family. For more information, call (859) 817-9280.
Ghost Tour in Augusta, Kentucky on Saturday October 26th Reservations are required (and spots limited).  Call 606-756-2183 to hold your spot!
Boone County Public Library Halloween Events: (be sure to register as needed for these events)
Itty Bitty Halloween Parties for munchkins 2-5 years, wear your costumes and party at the library! (Walton: October 21st at 6:30pm ~ Scheben: October 22nd at 5pm & 6:30pm ~ Florence: October 24th at 6:30pm ~ Lents: October 28th at 6:30pm ~ Main: October 29th at 6:30pm ~ Main: October 30th at 10am)
Halloween Spectacular for grades K-5.  Costumes, games & treats!  (Lents: October 22nd at 6:30pm ~ Walton: October 24th at 4:30pm ~ Scheben: October 30th at 6:30pm)
Babytime Halloween October 23rd at 9:30am at the Main Branch

Halloween Howls

: Grades K-2 come to the Main Branch for Halloween fun!  October 29th at 6:30pm
Jack-O-Lantern Junction Through OCTOBER 31  2013 10:30 a.m.-6 p.m. EnterTRAINment Junction www.entertrainmentjunction.com 7379 Squire Ct., West Chester, OH 45069 Starts at $9.95 September 21-October 31, 2013.  Halloween celebration in a kid-friendly, themed environment; Main Street Halloween decorations; walk-through trick-or-treat maze with non-scare ghosts, skeletons, cobwebs and multiple treat stations; area's only indoor Pumpkin Patch (where kids get a free mini-pumpkin); Halloween crafts and more!
Campbell County Public Library Halloween Events (please register as needed – see their website)
Super Saturday: Build a Spooky Gingerbread House!  October 26, 2013 at 2:00 PM (Newport Branch) For all ages, snacks provided.
Baby Boos and Ghouls  October 26, 2013 at 10:00 AM (Carrico/Ft. Thomas Branch), for munchkins ages 2 and under.  Costumes, Halloween stories & songs and cookies.
Adventure Club: Halloween Party  October 28, 2013 at 4:00 PM (Carrico/Ft. Thomas Branch)  For grades 1-5, snacks provided.
Halloween Preschool Time Registration not required October 29, 2013 at 1:30 PM (Cold Spring Branch) for ages 4&5…be sure to wear your costume!
Halloween Toddler Time  Registration not required October 30, 2013 at 10:00 AM (Cold Spring Branch) for ages 2-3, wear your costumes!
Adventure Club: Harry Potter Halloween Bash October 31, 2013 at 4:00 PM (Cold Spring Branch) for grades 1-5.
Haunted Duck Tours ~ Fridays and Saturdays through November 2nd.  RECOMMENDED for CHILDREN over 16.  Local ghost stories and more.
Halloween Nights at Parky's Farm at Winton Woods ~ Thursdays–Sundays, October 3–27, 2013 from 6–10 p.m. 10073 Daly Road, Cincinnati, Ohio 45231 ~ Fun for the whole family!  Twinkling lights, jump houses, pony rides and more not-so-scary fun!  Visit the Halloween Nights website for more details
Heritage Village Museum's Haunted Village ~ "Slight Fright" for the whole family…wagon rides, walks in the cemetery, trick or treating in the village, and more.  You might cross paths with the Headless Horseman or a fortune teller, you just never know!  Face-painting, balloon animals, and more.  Every Friday and Saturday, October 11th-26th from 6pm-10pm.  Admission is $8.00 for anyone 2 and up. Museum members are FREE.

Halloween Happenings at the Public Library of Cincinnati and Hamilton County (there were just too many to list!  Check out their website, there's plenty to choose from!)
HelloWeeOnes – The Child Wellness Fund and Phillips Edison Company have joined up for a  FREE  event especially for
young ones in the community.  Check out their Facebook page for all the details.  Here are the locations (events are from 12-3):
Forest Park Square: Saturday, October 17th
Alexandria Village Green: Sunday, October 18th

Amelia Center

: Saturday, October 24th
Landen Square: Sunday, October 25th.
The 2nd Annual Scarlet Oaks Retirement Community Halloween Spooktacular is coming soon! Visit us for trick or treating, games, and a kid friendly haunted mansion fro, 5-7pm on Friday, October 25, 2013! http://lnkd.in/bHp_BSr
Haunted Houses ::
**This list is for the thrill seekers…the adults or teen kids in the family…proceed with caution!
The Chambers of Horror, The Twisted Ohio Haunted House
Halloween Haunt at Kings Island
The Haunted Cave at Lewisburg
Land of Illusion (5 Haunted House for 1!  AND a chance to hunt zombies) (COUPON: Save $5 off Admission)
Scaredown in Waynesville, OH
Springboro Haunted Hayride and Black Bog