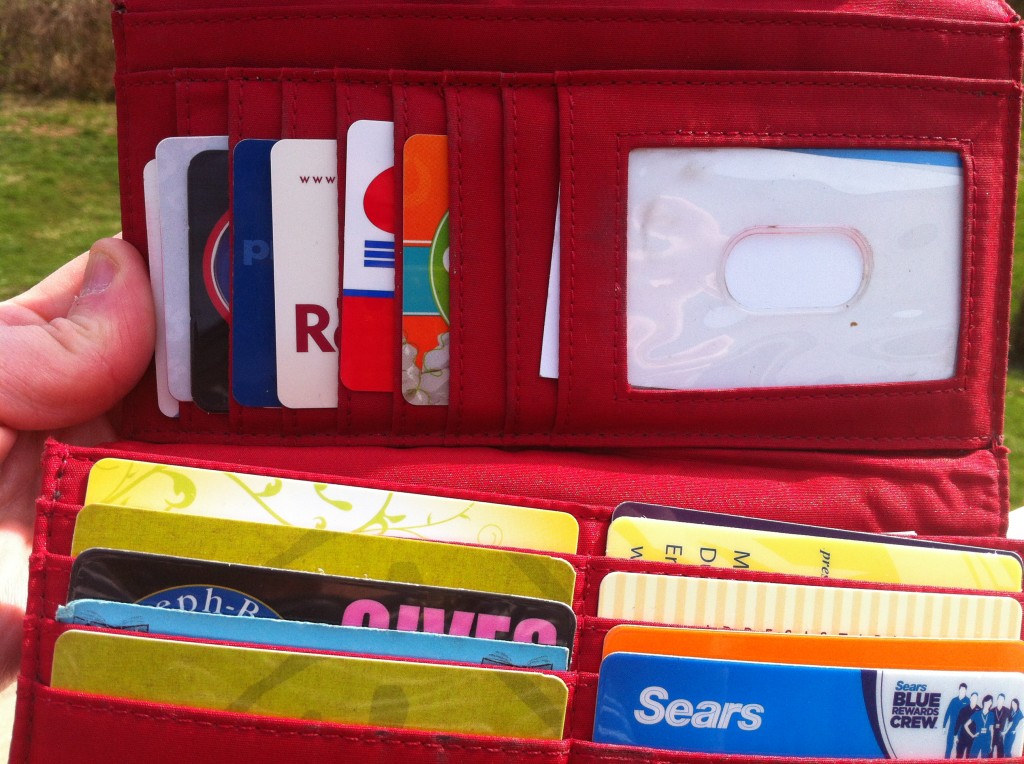 I don't know if you have this problem, but it seems to be pretty widespread and detrimental to designer purses, wallets, and keychains everywhere-Loyalty Card Overload.  We all suffer from it, but who can turn down a chance to save a little money?  I mean…you have to EAT, might as well save some money while you do it.  Am I right?  I probably have 2 dozen loyalty cards on my keychain or in my wallet at this very moment.  You juggle them at the grocery store, book store, pet store, gas station, movie theater….and the list goes on.  If you lose your card and someone finds it then they can potentially use all of your loyalty points or other  perks before can replace your card and inform the company that the old one was lost.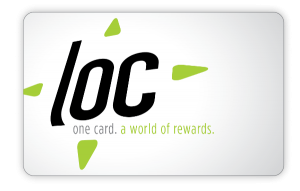 Enter the LOC Card.  If you ever thought to yourself "I wish I could magically fuse all of these cards together instead of carrying around 5 pounds worth of plastic" then the LOC Card is the answer to your prayers.  One card for all of your loyalty programs, one card to save you money everywhere you shop.  That's the LOC Card…that and so much more!  So why are we talking about this? LOC Card is a Cincinnati-based company that is aiming to revolutionize the way loyalty card programs serve you and the merchants and businesses that you frequent.  I was given a 'backstage tour' of the LOC Card's website and I have to say I am seriously impressed!  I'll be honest, I thought "it's just another loyalty card to carry around" until I saw all of the amazing things that this card and website can do.  Read on for the details!
The LOC Card cuts down the bulk on your keychain, that's true, but once you see all of the amazing things you can do with this card, the website, and the app you will be amazed and very excited.  You can manage all of your loyalty programs, points, and perks from the 'dashboard' of your LOC Card.   The dashboard will list all of the merchant loyalty programs in which you are enrolled.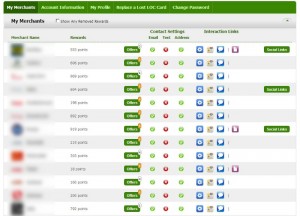 Besides just managing your loyalty programs and showing you how many points you currently have available  you can also do all of this from your dashboard:
See available offers you are eligible for at your listed merchants (ex: digital coupons, special offers)

Alerts you to new offers so that you don't miss out..even if the merchant doesn't have your email address.  LOC Card NEVER shares your email with companies unless you specifically allow them to.  Any email offers you accept with your LOC Card are mailed to a proxy email and then forwarded to you by LOC Card.
You can opt to receive email, snail mail, and texts alerting you to specials and offers.  Again, LOC Card never shares your personal information/email/phone number with companies unless you tell them it's okay to do so.  All communication goes through a proxy before it gets to you.
If you have feedback for a merchant you can send that directly through your LOC Card website/dashboard.  Not only can you send them feedback but they can also respond, and once again it's all done through the proxy.
You can merge your old loyalty programs/points with the LOC Card easily on the dashboard so there's no worry about losing points accumulated or missing out on deals when you switch.
When offers expire you don't have to weed through them or spend time deleting them so that you can see only recent and current offers-the LOC Card's dashboard self cleans those expired deals right out of your way so you can sit back and enjoy all the savings!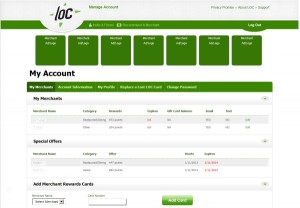 The dashboard is also your place to connect with the merchants that you have loyalty programs with.  Not only can you find your own loyalty card program information but you can also view merchant information by clicking on a specific merchant and going to their brand page.  On this page you can:
Find all of that merchants social channels-Facebook page, Twitter feed, Instagram, Pinterest, etc.

Find locations near you using the mapping feature.  So even if you are visiting South Carolina on vacation you can find the nearest pizza place and use that free pizza offer that you just received (via the LOC Card app on your smart phone!)
Manage your contact setting with that merchant.  Maybe you are okay with receiving grocery store emails directly but you'd rather not get overloaded with information from the sporting goods store.  Go to the merchants brand page and manage all of those settings-from choosing which offers you receive, to getting alerts when you are eligible to take surveys, whether you want texts or emails, etc.  All of it in ONE location.  No more shuffling websites!
Find the most recent ad for that grocery shopping trip you are planning.  It's right there on your dashboard.
You can search for offers by category as well!  So, you want to take the family out for dinner tonight?  Just check the LOC Card dashboard for your offers and plan your night!  School shopping?  Find out if there are any good deals in the area and plan your shopping route.  And there's no need for 20 different apps on your phone…you only need the LOC Card app to track it all.
As I said, it's very easy to link your old loyalty card with the new LOC Card when you sign up and even better than that, when you sign up for a new loyalty program with a merchant that is using the LOC Card there's no entering duplicate information because it's already stored in the profile on your LOC Card!  There's no intrusive information needed either, so there's no worry about oversharing personal information.  YOU choose how much detail goes into your profile, it's all voluntary.
LOC Card also knows how important it is to streamline your inbox.  Who has time to sift through dozens of emails from different merchants?  Yes, they offer great discounts and deals, but what good are those deals doing sitting in your inbox unread?  Only receive the emails you choose to get sent to your inbox…instead just check your LOC Card dashboard and find every offer you have available right there in one spot, not cluttering your inbox.
Lost your LOC Card?  NO problem!  That person who picks it up off of the street has no idea where you are registered for loyalty programs so they aren't likely to use up all of your loyalty rewards.  Just go online, let LOC Card know that you lost your card and that loyalty number is automatically shut down…for ALL of your programs.  They send you a new LOC Card and you are back up and running!  NO running around, NO frantic phone calls to 20 different places (because if you lost or misplace your keychain there's at least 20 different loyalty numbers too hanging out on it!)  Just one click on the LOC Card website and you are back in business and all is well.,
So you may be thinking "But why would a merchant sign up for this?  What's it in for them?"  Just think-every time you visit your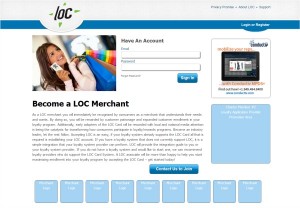 LOC Card dashboard to check out grocery deals you are also seeing all of the available offers from restaurants, shoe stores, clothing outlets…every single loyalty program you are a member of.  What better advertisement is that?  If I can grocery shop and also pick up that cute dress I've been eyeing for 40% off all in the same trip?  I call that the perfect trade off!  My family gets fed, I get to look cute.  Thanks LOC Card!  Merchants will also never have to worry about their customers missing out on all of the great offers they share because the LOC Card dashboard will make sure they know about it before it expires!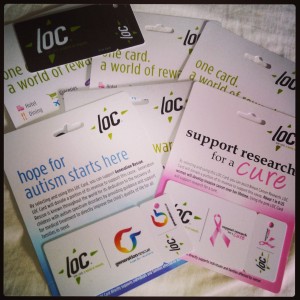 Not that you need yet another reason to get excited about the LOC Card but I also have to share this:  When you sign up and choose your LOC Card you can also choose one of several charitable LOC Cards that are available.  When you use the charitable LOC Card  a portion of the sales go to the charity featured on that particular card.  How amazing is that?
So, to sum it all up: It saves you an ache (back, head, arm) from carrying around and keeping track of all of those little plastic loyalty cards that you have in your purse, wallet, or keychain.  It helps you manage your programs all in one spot.  It saves you time!  It saves you money!  It can save the world by giving to charity!  It might seem a little overzealous to say that this card will change the world, but I certainly feel like it will change mine!  Anything that makes my life easier is a keeper.  I am really looking forward to seeing the LOC Card in action.
The LOC Card isn't here yet, but it will be very soon!  In the meantime you can stay up to date on all of the LOC Card happenings by visiting them on Facebook at www.facebook.com/theloccard and get ahead of the game by pre-registering for the LOC Card by visiting www.loccard.com/home.htm#preregister.  When you pre-register you can give input on which merchants you'd like to see get on board with LOC Card, and in doing so influence those businesses you frequent and show them what an amazing tool the LOC Card is going to be!
The LOC Card promises to revolutionize the way you shop by saving you time and money.  Check out the LOC Card and get pre-registered today!
Disclosure: FFC's Shannan, who partners with LOC Card, invited me to take a look to give an arms-length opinion.  These thoughts and opinions are my own.