Welcome to the weekend!  Are you surviving Summer Break?  Need some great ideas or things to do?  Well, we have some pretty fantastic stuff for you.  Several libraries are kicking off their summer reading programs and the parks have some awesome start of summer activities.  Plus Coney Island has Cincinnati Summerfair all weekend!  Here's a list of weekend fun just for you:
Friday
Family Summer Fun- Movie Night at Smale Park May 31, 7-9pm.  Movie Starts at 9pm Cincinnati Parks  Smale Riverfront Park Free, all ages.  See the movie 'Brave' :: Cincinnati Circus performers at 7pm–9pm.  Movie at 9pm.
Summer Reading & Star Wars: Crafts, Costumes, Pizza & More May 31st, 11:30AM-8:30PM Kenton County Public Library www.kentonlibrary.org Erlanger Branch, 401 Kenton Lands Rd., Erlanger, KY 41018 Free We are blasting off to a galaxy far away with a Summer Reading Kick-Off. Jedi style! There is something for everyone in this full day of events. Movie screenings all day, Star Wars trivia 4-5PM, Costume Contest 5-6PM, Make It & Take It Crafts 5-8PM, Free Pizza at 6PM, After Hours Star Gazing from 9-10PM
Saturday
Summer Reading Kickoff June 1, 2013 2:00pm Public Library of Cincinnati and Hamilton County www.CincinnatiLibrary.org/SummerRead —Free– To kick off a fun season of reading (June 1-July 31), ALL Library locations around Hamilton County are holding Summer Reading activities related to this exciting theme on Saturday, June 1. Children and their families are invited to stop by their neighborhood Library to decorate a superhero mask (while supplies last). Plus meet superheroes from Heroes Alliance Ohio at 2 p.m. at the Symmes Township Branch Library, 11850 East Enyart Road, 513-369-6001.  Enjoy juggling, face painting, and balloon animals with The Amazing Portable Circus at 2 p.m. at the Anderson Township Branch Library, 7450 State Road, 513-369-6030.
Kids Fishing Derby June 1, 2013 9:00am – Noon Kenton County Parks & Recreation www.kentoncounty.org Middleton-Mills Park Free ""Take me fishing!" KCP&R will present the Kids Fishing Derby for kids of all ages from 9:00 am until 12:00 pm.  Start a family tradition! Hey, water works wonders!  We'll have everything for you and your child to enjoy a great day of fishing: spincast rods and reels, hooks, bobbers, and bait. If you want to bring something, pack an extra helping of patience! Bring a camera. You'll be making memories!  Special 'Thanks to our friends at Wal-Mart for providing the 'Big Fish of Each Species' Contest prizes! And Reel Cool™ Fishing Bottles™ will make their debut at our event! Wait til you get a load of this breakthrough fishing product! Allows you to 'fish anywhere, anytime!'  Picnic fare will be available for purchase when you get hungry! Hotdogs, hamburgers with all the fixin's and more! Immediately following the Kids Fishing Derby, head up to Shelterhouse 2 for the Kick-Off To Summer Party!
Directions: The address is 3415 Mills Rd. in Covington, KY 41015. From I-275, take Exit 79 (Covington-Taylor Mill) and drive 7 miles south on KY Hwy 16 to Mills Road. Turn L on Mills Road and drive about 1 mile to the park. We'll be using Shelterhouse 1, right on the first pond.
For more information, call (859) 525-PLAY (7529).
COLOR: Blue Saturday, June 1 2:00pm – 3:00pm Brazee Street Studios www.brazeestreetstudios.com 426 Brazee Street, Cincinnati, OH 45209. –$10– Join us to create one-of-a-kind sun catchers inspired by BLUE. Create two sun catchers- one to take home, and one to submit to gallery One One for our 3rd Annual SOG Kids Gallery Show: Rainbow Project!
Dad and Me Coasters Saturday, June 1 1:30pm-3:00pm Brazee Street Studios www.brazeestreetstudios.com 426 Brazee Street, Cincinnati, OH 45209. –$20/pair– Just in time for Father's Day! Bring Dad to Brazee and create a pair of fused glass coasters together using a variety of glass materials. This year, give Dad a handmade gift he'll cherish for years to come!
German Story Time at Blue Manatee Bookstore Saturday, June 1 10:30am – 11:00am  www.bluemanateebooks.com 3054 Madison Road
Cincinnati, OH 45209 –Free– all ages–Learn simple German vocabulary through stories and song.
Sunday
Ashland Avenue Baptist Church presenting Taste of Ashland ~ June 2, 2013- immediately following a.m. service. 11:30am-1:00pm ~ 4255 Ashland Ave. Norwood, OH 45212 ~  We are raising money for our teens to go to summer camp!  Website with Event Information: RUSHcamp.org is the camp website. The church site is www.AshlandBaptistNorwood.org   Church members will sell samplings of homemade food for $1. All proceeds go towards our youth group camp scholarships.
All Weekend
St Jude Festival (Bridgetown) May 31st 6:00pm-12:00pm, June 1st 4:00pm-12:30pm, Sunday 3:00pm-9:00pm St Jude Parish http://stjudebridgetown.org/Fundraiser/Festival.aspx 5924 Bridgetown Road –Free–  The Summer begins with St Jude Festival. There are three premier bands presented:
Friday – DV8
Saturday – My Sister Sarah
Sunday – Five O'clock Friday
There is plenty of food and games for all ages. We provide an all day ride package for the kids ($15 per child, 3pm – 9pm) and offer one of the best Bid-N-Buys in the city. Hope to see you there!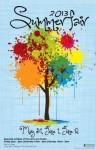 Summerfair Cincinnati ~ Coney Island  6201 Kellogg Ave. Cincinnati, OH 45230 ~ Friday, May 31 from 2:00pm – 8:00 pm; Saturday, June 1 from 10:00 am – 8:00 pm;  Sunday, June 2 from 10:00 am – 5:00 pm ~ Summerfair 2013 will feature more than 300 fine artists and craftspeople from around the country exhibiting and selling works ranging from ceramics and sculptures to painting and photography, a youth arts area and a variety of gourmet food vendors. The annual event, held at historic Coney Island, is Summerfair Cincinnati's main fundraiser, with proceeds benefiting local visual and performing arts organizations and individual artists in the Greater Cincinnati area. Tickets are $10, CASH ONLY at the gate, or online at http://summerfair.org. Children 12 and under admitted free.  More Information :: http://Summerfair.org  or 513-531-0050