FRIDAY
Meet up with other superfans for Final Friday Fandom at the Boone County Library at 1786 Burlington Pike, Burlington, KY at 3:30pm.  This is for middle and high school aged and registration is required.  This month's theme is Bad Lip Reading.
SATURDAY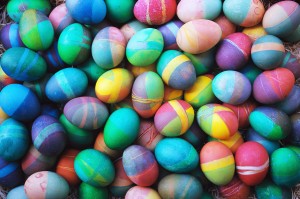 Washington Park is hosting its first-ever Easter Egg Hunt Saturday March 30th.  The entire egg hunt will run from 10:00am to Noon and is completely FREE for all children and their families.
Celebrate Easter and Spring by creating glass art at Brazee Street Studios! Create an Easter egg or anything you can imagine on your one-of-a-kind fused glass sun catcher. Bring the whole family to create hanging 4×4″ mini- sun catchers in this family-friendly Open House!  Saturday 10:00am-1:00pm.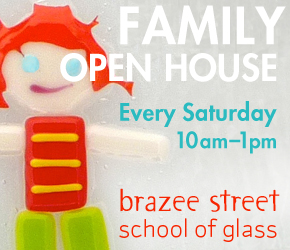 Bring your young artist to Brazee Street Studios and create glass art together.  Use a variety of Bullseye Glass materials to create one-of-a-kind fused glass portraits of yourselves or each other.  Students will use fused glass components to make a unique 6×8″ fused glass hanging portrait.  Saturday 1:30pm-3:30pm.
You and your favorite doll or stuffed animal are invited to a pizza party with Abby of Abbydid at the Broadhope Art Collective! Make your own play food using lots of different materials. When finished, your miniature bestie will be all set to entertain with a pizza in a carryout box, ice cream cones, and juice boxes – all that you create and decorate yourself!   Saturday 1:30pm-3:00pm.  Cost is $20.  All ages welcome and all materials provided.
Don't miss ManaTots at the Blue Manatee Children's Bookstore and Decafe Saturday at 9:30am for stories, songs and fun.  Program is for children up to age 4 and is free.
SUNDAY
Sunday, March 31, 2:00pm – 4:00pm watch children's book illustrator Alexi Natchev demonstrate woodblock printing at the Skirball Museum at Hebrew Union College.  Natchev will demonstrate this 200-year-old method of wood block printing he used to create the illustrations for The Elijah Door: A Passover Tale (Holiday House, 2012) by multi-award winning children's author Linda Leopold Strauss. A hands-on printing activity for children will also be led by the artist. The exhibit, "Alexi Natchev: Hand-Colored Block Prints from The Elijah Door," and all the events are free and open to everyone.
Celebrate Easter and enjoy the spring. Come aboard BB Riverboats Easter Cruises for their annual Easter cruise and a fabulous buffet meal, relaxing atmosphere and outstanding views. You can enjoy a hearty brunch or a traditional Easter dinner featuring ham and chicken. Even the Easter Bunny will attend!  Sunday brunch 1:00pm-3:00pm and dinner 5:30pm-7:30pm. Adults $40 and children $20.
ALL WEEKEND
Come visit Lynne Bachleda, author of Wild Cincinnati, at her book signings this weekend.   Wild Cincinnati is a guide about all the wild things you'll see outdoors in this area, and what to do when you cross paths with wild creatures.  Family Friendly Cincinnati will be sharing more about this book in a few weeks and will even have a couple of copies to give away!!
Friday March 29 – Book signing only 5:00pm at Roebling Point Books & Café 306 Greenup Street Covington, KY 41011
Saturday March 30 – Book signing only 11:00am at Park+Vine 1202 Main Street Cincinnati, OH 45202
Saturday March 30 – Presentation and book signing 7:00pm at Roads, Rivers, and Trails 118 Main Street Milford, OH 45150
MONDAY, OPENING DA
Y!
The fun will continue on Monday, April 1, with a Reds Opening Day Celebration in Washington Park.
Festivities begin at 11:00am with beverage sales and live DJ music. The Findlay Market Opening Day Parade starts at noon and will pass by Race Street—directly in front of the Park—as it makes its way through the city. Click HERE for a map that details the full route.
Be sure to stick around after the procession for even more music, family-friendly activities and a delicious cookout.  You can even watch the Reds play at 4:00pm on the  giant LED screen the park has rented for the day!