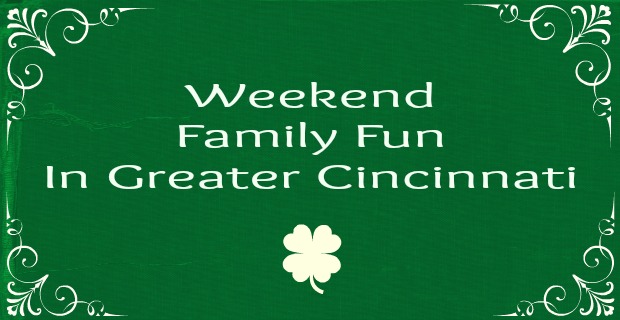 Happy St. Patrick's Day weekend!  Since we're all Irish this weekend I know your first stop will be our compilation of fun St. Patrick's Day activities that Katie S. put together, so look here to find information on the St. Patrick's Day Parade downtown, Celtic Lands Culture Fest at Cincinnati Museum Center, St. Patrick's Day Celebration at the Irish Heritage Center, St. Patrick's Day Party at Washington Park and so much more!
Family Friendly St. Patrick's Day Happenings in Cincinnati and Northern KY: 2013
Then keep reading, there's more than just St. Patty's Day fun to be had this weekend!
Saturday
This month at the Family Open House at Brazee Street Studios they are celebrating Spring, St. Patrick's Day and Easter!  You can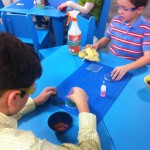 create a shamrock, Easter egg or anything you can imagine.  Bring your imagination and create a hanging 4×4 inch fused glass mini suncatcher.  Open house runs from 10 AM to 1 PM.  For more information please visit www.brazeestreetstudios.com
Bring your furry family member and have a photo taken with the Easter Bunny at the Kenton County Animal Shelter in Ft. Mitchell!  The Easter Bunny will be there on Saturday from 11 AM until 3 PM for pet photos, proceeds benefitting the Kenton County Animal Shelter and Kenton Paw Park.  Pets and their people can get treats plus there will be pet gift bags!  Photos starts at $10, printed while you wait.  The shelter is located at 1020 Mary Laidley Drive in Ft. Mitchell.  For directions and more information visit the Kenton Co. Animal Shelter website. 
The Northern KY Mothers of Twins Club is holding it's semi-annual children's clothing, toy, and equipment sale from 9 AM to 11 AM on Saturday at the METS Center in Erlanger.  Open to everyone, this sale includes gently used clothing, shoes, baby furniture and much more.  Admission is $1, cash only for purchases and all sales are final.  Please bring your own bags or baskets to carry your purchases away.  For additional information about the sale, please call 859-547-8700 or visit www.nkmotc.com.
West Chester is the place to be for the Mother's Exchange Spring Sale and Vendor Event this Saturday from 8 AM to NOON at the Lakota West High School.  Gently used children's clothing, furniture, toys, books, games, and much more will be available for purchase.  Admission is $1-all sales cash only and final.  Please bring your own bags or baskets to carry your purchases away.   Besides gently used items you can also shop such vendors as Pampered Chef, Tastefully Simple, Tupperware and much more.  For information please email mothersxchange@hotmail.com
If you are up for a short drive then you can take part in the Indoor Kite Fly at the US Air Force Museum in Dayton!  PIGS Aloft (that's People Interested In Gettings Things Aloft) will be flying indoor kites at the US Air Force Museum from 9AM until 3PM.  The museum is FREE.  Check the AKA (American Kitefliers Association) website at www.aka.kite.org for festivals, kite patterns and other kite related fun.
Enjoy the adventures of Aladdin & Friends as Madcap Puppets performs at Cincinnati Art Museum's Fath Auditorium on Saturday at 11:30 AM.  Enchanting stories pop up from the pockets of a giant-sized coat and puppets and actors bring to life the tales of Aladdin and the Magic Lamp and The Girl and the North Wind.  Family Level Art Museum members receive up to 5 tickets FREE, non-members are $8.  Call 513-721-ARTS for more info.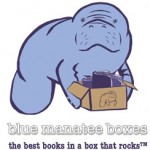 A Cincinnati favorite, Thane Maynard of the Cincinnati Zoo, visits Blue Manatee on Saturday at 11 AM.  Who KNOWS what will happen or what animals he'll have with him…all we know is that it's bound to be FUN!  This is an all ages and FREE event.
Don't forget that Blue Manatee also hosts ManaTots on Saturdays at 9:30 AM for children up to age 4.
Thinking ahead to spring and watering all of those flowers you are going to plant this year?  Learn how to build and use a rain barrel at the Civic Garden Center this Saturday from 1-2:30 PM.   Instructor Jerome Wigner will show you how to build a rain barrel to help reduce storm water runoff and save money on your spring and summer watering.  Take home tips to help you install and maintain a rain barrel at your home.  Cost is $10 (free for CGC volunteers)  Please register by calling 513-221-0981
Do your kids love Yu-gi-oh?  Bring your 4-10th grade kids to the Scheben Branch of the Boone County Library on Saturday from 1-4 PM for a Yu-gi-oh tournament!  Play with other local players.  Please bring your own deck (English cards only).  For more info call the library at 859-342-BOOK.
Duke Energy Convention Center hosts the Mercy Health Heart Mini Health and Fitness Expo this Saturday from 10:30 AM until 3:30 PM.  Free fitness screenings, exhibits, and special activities for children including a free Kid's Fun Run for ages 7 and under.  This event benefits the American Heart Association and is FREE.  www.heartmini.org for details.
Head to Happen Inc. in Cincinnati's Northside for 2 great sessions on Saturday-from 10 AM to 11 AM and then again from 12 PM to 5 PM you can get ready for spring and create your own bit of green with a terrarium, and then from 11 AM to 11:45 AM meet Happen Inc's resident leprechaun, Roy G. Biv, as he teaches you all about rainbows!  What do you think you'll find at the end of the rainbow today?  For information please visit Happen Inc. at www.happeninc.com
Visit the Broadhope Art Collective this Saturday to participate in these fantastic classes: Jewelry-making, Kids Only, from 11AM until 12:30 PM. Cost: $20  Have fun stringing bright, colorful beads into your own necklace!  Ages 6-9 recommended, all materials provided.  Or Paint a Daisy with Oberaw Industries at 2 PM Saturday.  Cost $25.  Broadhope's resident metal workers will help you get your yard in the Spring mood by providing a metal daisy form that you can decorate and finish and then place in your yard in the anticipation of Spring!  Recommended ages 12 & up, all materials provided. For information visit www.broadhopeartcollective.com
Join Jesse Mooney-Bullock, Cincinnati artist and puppeteer, as he performs his new show Bear Boy at Kennedy Heights Art Center.   Bear Boy features a young boy who has a beastly side.  Mooney-Bullock's hand carved puppets make his characters come alive!  There are two showings on Saturday at 1 PM and 3 PM.  Between shows, at 2 PM, there will be an opportunity for kids to take part in a mask-making activity led by the artist himself.  This event is FREE but space is limited so reserve your tickets by visiting the Kennedy Heights Art Center website.
Sunday
Camp Ernst invites you to join them for a History Hike on Sunday from 2 PM until 4 PM.  Bring your camp photos and memories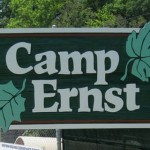 to share with other camp alumni and celebrate the opening of the new Welcome Center!  The camp's historian, Lincoln Bryan McIntyre, will share stories and you can make s'mores, then go on a destination hike to the site of the new swimming pool.  For details and directions contact Elizabeth Cochran (executive director) at 859-586-6181 or visit www.myYcamp.org
Head to Blue Manatee for St. Patrick's Day story time at 2 PM on Sunday.  Read stories and create a leprechaun trap!  This is an all ages and FREE event.
If Fairies are your thing then head to The Broadhope Art Collective and join Sarah of Moonforest Studio as she teaches you to needle felt your own fantastical mushroom fairy house, complete with little door and landscaping!  Sunday from 1 PM to 4:30 PM.  Cost $40.  Sign up for two classes and receive a $10 discount!  Recommended for ages 12 to adult, all materials included.  For information visit www.broadhopeartcollective.com
All Weekend Long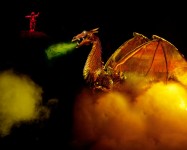 The circus is in town!  Ringling Bros. and Barnum & Bailey presents Dragons will be wowing audiences at the US Bank Arena now through Sunday.  There is still plenty of time to pick up tickets to the remaining shows:  Friday, March 15 at 7 PM; Saturday, March 16 at 11 AM, 3 PM, and 7 PM; Sunday, March 17 at 1 PM and 5 PM.   Check www.ticketmaster.com for availability.
Peter Pan at the Aronoff is a MUST see for anyone who doesn't want to grow up!  Cathy Rigby is still flying high as Peter Pan, you don't want to miss this fabulous show!  Remaining performances are Friday, March 15 at 7:30 PM; Saturday March 16 at 2 PM and 7:30 PM; Sunday, March 17 at 1 PM and 6:30 PM.  Visit www.cincinnatiarts.org for tickets.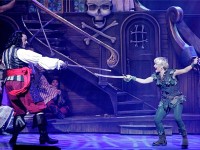 Head downtown to the Contemporary Arts Center and experience ON! Handcrafted Digital Playgrounds.  This is an interactive exhibition celebrating our intuitive desire to PLAY!  This exhibit runs all week long (and will be here until September).  Saturday and Sunday it's open from 11AM until 6 PM, cost is $7.50 adults, $5.50 educators, seniors and students.  Visit www.contemporaryartscenter.org for more details.
You still have Friday and Saturday to experience the REELabilities Film Festival.  Registration is required.  Visit www.cincyra.org to register and read about this incredible event in this post written by FFC's Shannan: REELabilities Film Festival Kicks Off
Don't forget Cincinnati Art Museum's Artworld every Saturday and Sunday from 11 AM til 5 PM.  This program is a fantastic way for families to explore art together!  www.cincinnatiartmuseum.org/visit/plan/calendar for details.
Get a taste of things to come at Krohn Conservatory's Enchanted Forest Spring Show!  Bulbs, bushes, blooms, and elf houses…fairytale dreamland!  Open from 10 AM to 5 PM daily.  Check the website for an online coupon: www.cincinnatiparks.com/krohn

Cincinnati Museum Center's Omnimax Theater is still showing Flight of the Butteflies!  Learn about the amazing Monarch butterfly and it's incredible journey as it migrates across an entire continent to a place it's never been before with pinpoint accuracy.  FFC's Katie got to check it out and has the scoop-read all about it here.  For times and tickets visit the Cincinnati Museum Center's website: www.cincymuseum.org/omnimax/flight-of-the-butterflies