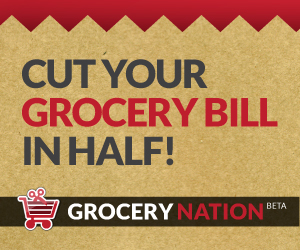 One of the areas in which I am weakest has to be in saving at the grocery store.  While I am great at taking advantage of the in-store savings, I've always fallen short when it comes to pre-planning and using coupons.
We're talking about this because of the new app we've been introduced to called Grocery Nation. It's currently available on Android phones, and from what we've seen, it's pretty awesome.
So what does the GROCERY NATION app do?
The Grocery Nation app is the brainchild of the folks at Savings.com.  Their DealPros have done all the "heavy lifting" and coupon researching and through the app are sharing the best sales and coupon match-ups for our local grocery stores.
With the Grocery Nation app installed you can see all the sales (including those that are unadvertised….) and the coupon match-ups for your local stores. They also make it easy for you to find items that are prime for purchasing to stock up in your cupboards – canned goods, tooth paste, etc.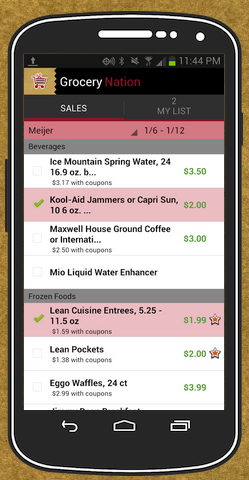 Can I just tell you how happy this makes me? I have tried so many times to be better with coupons, but seriously. Finding the time to search out all the sales and coupons online? There have been times where it's taken me 2+ hours.  And with the Grocery Nation app they do all that for you? It's enough to make a girl almost run out and get an Android phone 😉
One of the things I was most intrigued by with the Grocery Nation app is that you can also create your shopping list (which includes your coupons/deals) and email it to yourself.  I love that you can not only do this, but you can do it all in one place, and everyone can access it who needs it. No more note pads and emails.
Where can you find it?
The Grocery Nation app is currently available in Indiana and Ohio for Android phones (Come on iPhone version!!!).  To learn more, just visit: http://grocnat.com/FFC. There you can download the app if you have an Android phone, or sign up to be notified when it launches on the iPhone.
Disclosure: Family Friendly Cincinnati was compensated for helping get the word out about the Savings Nation app. Shannan seriously is looking forward to the day when it becomes available on the iPhone so that she can take advantage of it.