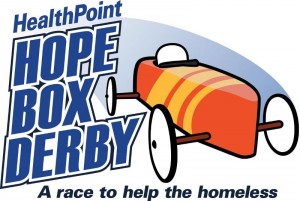 What a great weekend ahead!  They are calling for cooler temperatures too…a great weekend to get out and enjoy with your family and we've got a ton of great outdoor activities on our list this weekend!  First and foremost is the Healthpoint  Hopebox Derby taking place this Saturday!!   This is a free event with kids games, raffles, food…and all to benefit the homeless!  The event takes place this Saturday, Sept. 8, from Noon until 6 p.m. at Wright's Summit Executive Park off of Kyle's Lane in Ft. Wright.  Click here for a link to more info!
Friday
Do your kids love Thomas the Tank Engine?  Then you don't want to miss Day Out with Thomas™: The Mystery Tour 2012!  Thomas and friends are rolling into town for two weekends of fun Sept. 7-9 and Sept. 14-16 in Lebanon, OH.  Want to go one better and win a FREE family 4-pack of tickets?  Visit this post by Family Friendly contributor Susan and enter to win!  But act fast because winner will be drawn this Saturday, Sept. 8 (winning tickets are for the weekend of Sept. 14-16).
The 34th Annual Main Strausse Village Oktoberfest kicks off in Covington on Friday at 5 p.m.!!  Music, arts, crafts, games, rides, and best of all FOOD!  This is a fantastic family event with fun activities and wonderful sights, sounds and scents everywhere you stroll.  Don't miss out!
The 35rd Annual Clinton County Corn Festival kicks off on Friday at 11 a.m. and runs all weekend.  Featuring antique farm machinery, a parade, games, all types of food made from corn, a quilt show, musical entertainment, antiques and crafts and the Corn Olympics! $3; Fri, September 7, 11am – 10pm; Sat, September 8, 9am – 11pm; Sun, September 9, 9am – 6pm.  Clinton County Fairgrounds, 958 W. Main St., Wilmington, OH 45177
St. Susanna's Family Festival-Friday 5-Midnight, Saturday 4-Midnight, Sunday 2-10 p.m.  Rides, silent auction, raffles, food and lots of family fun!  500 Reading Rd., Mason, OH  45040
Saturday
It's opening weekend for the Old West Festival!!  Read all about Family Friendly contributor Karen's adventures at the festival
here, then mosey on up and check it out for yourself!  This is a wonderful family event…tons of great activities for kids, great entertainment, tasty food and drinks.  The festival runs weekends Sept. 8-Oct. 7 from 10 a.m. until 6 p.m.
Can't get enough of going back in time?  Follow up your Old West adventure with one into the Renaissance era at the Ohio Renaissance Festival!  Grab a turkey leg and watch the joust…or catch The Swordsmen in the act!  Tons of great shopping, food, entertainment, games, rides!  The festival runs weekends Sept. 1 through Oct. 21 from 10:30 a.m. until 6 p.m both days.
Support the Down Syndrome Association of Greater Cincinnati on Saturday and attend their Buddy Walk at Sawyer Point.  Registration is at 9 a.m., the walk starts at 10 a.m.  What a wonderful way to support this fantastic cause!
Got your head in the clouds?  Then look to the stars with the Cincinnati Observatory at Scope Out 2012.    This is an all day event-check out the latest and greatest in astronomical equipment, classes, educational information for teachers, kid's space crafts, safe viewing of the Sun, swap table, meteorites, tours of our historic buildings and door prizes!  Starts at Noon Saturday and runs until 11 p.m.
Family Friendly Open House at Wordplay's Urban Legend Institute at 4041 Hamilton Ave. on September 8 from 5 to 10 pm.  This event coincides with Northside's Second Saturday celebration.  Treats, music, word games and other surprises.  Read more about this event at this guest post by Tom Callinan from Wordplay.
FFC's good friend Andrea Deckard of the popular savings site, Savings Lifestyle, has partnered with the Public Library of Cincinnati and Hamilton County and will be offering several FREE couponing workshops at select branches around town.   This weekend is Drugstore Savings-Saturday, Sept. 8, 2 p.m. – Loveland Branch of the Public Library of Cincinnati and Hamilton County at 649 Loveland-Madeira Road, 513-369-4476.  Check here for future dates and classes!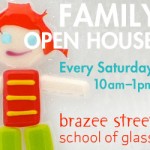 Check out the Family Open House every Saturday in September at Brazee Street Studios 10:00am – 1:00pm-cost $15.  Bring the family to create one-of-a-kind fused glass standing portraits! Design your own glass standing figures to look just like your family members. This is an open house style class, so join us anytime between 10am-1pm.


Saturday, September 8, 2012 at Blue Manatee Bookstore and Decafe-Bears with Brazee from 3:30pm until 4:30pm.  We're preparing for some great bear-themed book signings at blue manatee with a special glass art project! Join us to hear "Bear Has a Story to Tell" by Phil and Erin Stead, and "Bear in Love" written by Daniel Pinkwater and illustrated by Will Hillenbrand. After the stories, we'll create some adorable bears from safe glass components with our friends from Brazee Street Studios!  Ages 4 and up-$18 per child, includes glass materials.  Pre-registration is required, as space is limited. Please call or stop by to register.
Whole Foods Cincinnati-Kids Can Cook Too- MilkShake it Up!  Kids ages 3-12 can go on a FUN adventure and explore GREAT food, GOOD nutrition and FUN crafts.  Join them this Saturday and make Milk Shakes!  This Saturday, September 8th from 10:00 AM – 10:45 AM in the Cafe, FREE!
This weekend kicks off Aviation Days at Lunken Airport on Saturday and Sunday from 10 a.m. until 4 p.m.  Lunken airport is home to an amazing array of corporate and private aircraft as well as historic Warbirds,  and many home built and technologically advanced personal aircraft.  A vast variety of aircraft will be on display on the main ramp behind the terminal and this event is FREE!
Sunday
Second Sunday on Main in OTR! Head to Over-The-Rhine for this fun neighborhood festival from Noon – 5pm. This month they celebrate Dance on Main, featuring Middle Eastern Dances, Contemporary Choreographers, Hula Hoopers, New England Country Dances, and Hip Hop!
Storytelling in the Park on September 9th at Washington Park!!  A little something fun to do with the kiddies on September 9th from 1PM to 4PM, before Shakespeare in the Park returns with the Tempest!
Blue Manatee Bookstore and Decafe- Captain Underpants Party on Sunday, September 9, 2012 from 3:30pm until 4:30pm.  Fans of Captain Underpants won't want to miss out on this party full of Action, Laffs, and Surprises! Play a super silly game or two, eat some of George and Harold's favorite snacks, and make a Flip-O-Rama of your very own. Wear your cape- we'll be giving out a special prize for most outrageously decorated cape! Ages 6-10, $8 per child.  Pre-registration is required, as space and supplies are limited so please stop by Blue Manatee or call (513)731.2665 to register!