The only reason why we ask other people how their weekend was is so we can tell them about our own weekend.  ~ Chuck Palahniuk
Ain't that the truth Chuck!  And this weekend there is plenty to fill up your dance card and make you the envy of your office mates come Monday morning!
One thing Pam, a reader on Facebook, shared is Hidden Valley Fruit Farm's Peach Festival happening all weekend.  Yum….peaches!  Grab a bushel and try your hand at canning maybe even?
Another reader, Wiggy Dip, shared Madeira's Street Dance and Family Fest happening Saturday with dining, shopping and music for everyone.
The lovely folks at Little Songbird Music Studio are hosting an Open House on Saturday from 10am to 1pm. In addition to checking out all their offerings, bring a gently used formal/prom dress to donate to Cinderella's Closet so local teens can attend their big dances this year!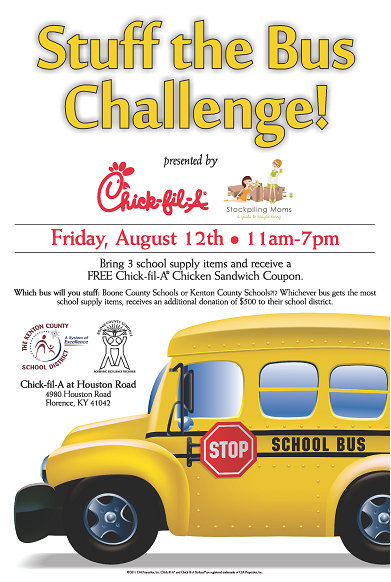 Help STUFF THE BUS on Friday to benefit Boone County and Kenton County Schools. Chick-fil-A on Friday from 11am to 7pm; bring three supplies to donate and get a free sandwich!
Karen posted about Star Glazers earlier this year and this Saturday you can try your hand at making some pieces at the Blue Ash Recreation Center from 2pm to 4pm.  Choose from a variety of pieces ranging in price from $10 up.  Register by e-mail to ann@starglazers.com or by calling (513) 474-6364.
There will be a ton of activities coming up on August 27th for Community Arts Centers Day.  In preparation for the big day, the Baker Hunt Arts & Cultural Center is inviting children on Saturday 10am-12pm to make musical instruments to use in the Parade on the 27th.
The REDS are in town all weekend for games – check out the details on their site!
Paint by the Glass is hosting a class for kids on Saturday – Canvas and Cocoa – 2pm to 4pm.  Call the shop for more details or to reserve a spot: 513.874.1101.
Second Sunday on Main Street is this Sunday downtown from noon to 5pm. Enjoy live music, shop for items from a variety of vendors, check out some amazing art and let your kids have fun exploring creepy crawly creatures with the Traveling Bug House presented by Higher Branches (1341 Main St.).
Melodic Connections, a non profit organization providing low cost music therapy to special learners of all ages, will have an Open House on Saturday 4pm-7pm to celebrate their first year in a new studio. Address:  4527 Reading Road   Cincinnati, OH  45229 www.melodicconnections.org
In the mood to take in an outdoor movie? On Friday Boone Woods is showing Monster's Inc and Colerain Township has Toy Story 3, Sunday you can head down to Fountain Square for Sherlock Holmes. Get the details here.
Let us not forget that it is also Festival Season!  This weekend you can check out festivals at both Sacred Heart in Fairfield and Our Lady of Visitation in Cincinnati. Get details on locations and hours, here.