This contest has closed. Thank you to everyone who entered. Congratulations to FFC Reader, Debbie Y.  Debbie, check your email for details.
As many of you know, we love the arts here at Family Friendly Cincinnati. Today we are excited to share that the Cincinnati Opera has given us a family four-pack of tickets to giveaway to see the matinee performance of THE MAGIC FLUTE next Sunday!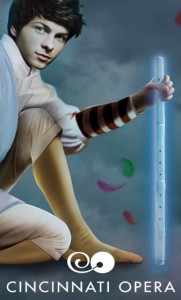 "The Magic Flute" is Mozart's final opera and his most adored. It charms with its fantastical elements: A dashing prince and beautiful princess, dragons and genies, an evil queen, and a happily-ever-after ending. And then there's the music – the composer's genius is on full display, from soaring vocal fireworks to sweet and tender moments. It's the perfect opera to enjoy with friends and family. For more information on "The Magic Flute," visit www.cincinnatiopera.org
Enter to win a family four-pack* of tickets to Cincinnati Opera's Sunday matinee performance of "The Magic Flute" (July 31, 3:00 p.m. at Music Hall).
*Cincinnati Opera recommends that children be at least 7 years of age.
How to enter:
1) Leave a comment saying you'd be interested in winning the tickets (must be able to attend the July 31 show)
2) Subscribe to our eNewsletter (top right sidebar) & leave a comment on this post saying you did so
3) 
Hang with us over on 
Facebook
 and leave a comment on this post saying you did so
5) On Twitter? Share a link to this contest with your followers, including @famfriendlycin & @cincinnatiopera in your Tweet.
That's it. Five easy ways to enter, one entry for each completed! Giveaway ends Tuesday, July 26 at 3pm. Winners will have 24-hours to respond.