We've been talking Cirque for a while now and we're thrilled to announce that we have a family four pack of tickets to give away to one lucky reader.  This is the hottest ticket in town and every where I turn folks are talking about this show.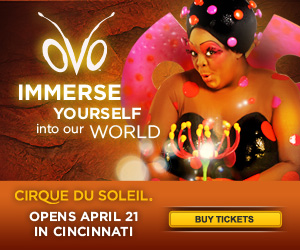 The wonderful folks at Cirque du Soleil has invited all of us at FFC to see the show on the preview night (THANK YOU!) and they were kind enough to share the love with a reader!  The tickets we have are for the 1pm show on Sunday, May 8th.
Entering is simple – since the OVO show is all about insects, magnificent, magical bugs, leave a comment telling us which BUG you'd be and why.  If you need inspiration, visit their site to get a sneak peak of how amazing the performer's costumes are.
You have til Tuesday at NOON to enter.
You can earn an extra entry if you post this giveaway to your Facebook page and/or tweet this on Twitter.  Leave a comment (in addition to your BUG comment) if you do either – that's three possible entries!
BUT WAIT! THERE'S MORE!!
You can double, triple, quadruple your chances by visiting the following Contributor's sites as they are hosting giveaways too:
Go see Shannan at MommyBits
And Kristin at Mason Metu
Don't forget Kandi at Mommy Confessions
Oh, and me too! Amy in OHio
Last but not least, Susan is doing a giveaway on Working Moms Against Guilt.
Good luck everyone!
Contest Closed: Congratulations to FFC reader Brittany Beckman! Check your email Brittany!