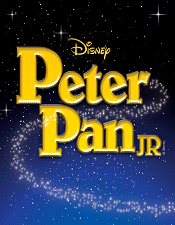 The Children's Theatre of Cincinnati is wrapping up their 2010-2011 series with a bang! For the first time, CTC will do a pilot production of Disney's Peter Pan Jr. If possible, I think I'm more excited to see the show than P is.  The story of Peter Pan has such a warm spot in my childhood memory box and I can't wait to see it performed live.  Bob Herzog from Local 12 stars as Captain Hook!
The show starts with Opening Night tomorrow at 7:30 pm; two shows on Saturday (2pm and 5pm); Sunday at 2pm and next Saturday (4/9) at 2pm.  You can get tickets by visiting their site and act fast.  It was a full house for nearly every show of Jungle Book back in February – so don't miss out!
If this show is anything like the rest of the series has been, it will be phenomenal.  Being able to take our children to top notch performances like these is one of the things I cherish about Cincinnati – we are truly blessed.  As sad as I am to see this season end, next season promises to be bigger and better than ever.  We'll of course follow it closely here at Family Friendly Cincinnati because the 2011-2012 line up is out of this world: The Wizard of Oz, Disney's My Son Pinocchio Jr., Holiday Follies 2011, and Rapunzel, Rapunzel.  WOW!  The kids will go crazy and with series tickets starting at only $28 (FOUR LIVE PROFESSIONAL SHOWS for $28 per person?  UNBEATABLE!) this is affordable, quality entertainment for families.  And I love knowing I'm instilling a love of the theater in P that will hopefully last forever.
Thanks to our wonderful friends at CTC, we have a family four pack of tickets to give away to one lucky winner for the April 9th 2pm show.  To enter, all you have to do is comment here with your favorite childhood movie/cartoon/show.  It will be fun to walk down memory lane together. We'll draw a winner on Tuesday at HIGH NOON  – so act fast!