If you've never taken your children to a live performance, getting tickets for Fitton Family Fridays is the perfect way to get them started.  The shows are all family-friendly and they are fun.  We got to see the Magic of Stephen Night in November and both my girls (ages 5 & 7) loved every minute (my husband too).  On January 28, The Fitton Center for Creative Arts will be hosting the Pino & Bonzer Variety Show at  7:30pm. Tickets are only $10 for members; $12 for non-members. Children (up to age 16) are $5 for members and $6 for non-members. Call (513) 863-8873 ext. 110 for more information.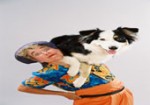 "A funny little clown. A hat stealing dog. A lady who has you bark to music. It's a wild and wacky show with zany characters, comedy, songs, mime and clever dogs with plenty of tricks up their, uh… paws and no woof it's fun for everyone!!" (The Fitton Center).
Lucky for FFC, the Fitton Center is once again donating a family four pack of tickets to the show.  Not only will you get to enjoy this delightfully entertaining show, but if you head over for the free pre-show reception at 6:30pm, your family will get to enjoy some kid-friendly appetizers, mini sandwiches, cookies, and beverages.  My girls especially loved this.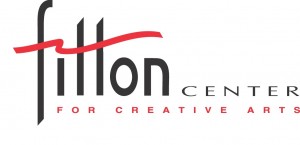 To enter our give away, please do one of the following (you can do more than one but make sure you leave a comment so we can track the number of entries and give us a way to get in touch with you). The winner will be drawn on Monday, Jan. 17  using random.org. You must live in Greater Cincinnati.  We will notify the winner via email and the winner will have 48 hours to claim their prize.
If you have a dog, what's his/her name? If you don't have a dog, what is a great name for a dog?
Visit The Fitton Center for Creative Arts website and leave a comment here about something that interested you.
Join our newsletter and leave a comment that you did (you can join on the home page). If you've already joined, leave a comment that you are already a member.
Follow us on twitter and send a tweet that @FamFriendlyCin is having a give away for The Pino & Bronzer Variety Show.
For more from me, visit my personal website, MasonMetu, from me to you.
Congratulations to Kristin who has a husky named Max.