I love discovering new places for live theater and recently my friend told me about Brieabi Productions.  They are a fairly new theater group in Anderson Township that is now producing it's fourth live show.  The show is Seussical the Musical so you know it's going to be great  for families.  Many of your favorite Dr. Seuss characters will come to life in this entertaining and visually inspiring show.  Of course, I am a bit biased since the show features two local Mason actors who I know.  You'll see father/daughter team, Ally & Brent Peebles, acting as Jojo (the tiny Who from "Horton Hears a Who" and  The Cat from "The Cat in the Hat").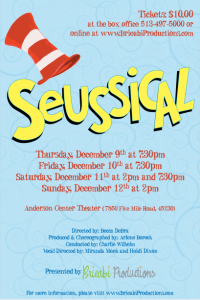 Performances are held at the Anderson Center Theatre and tickets are only $10. Show dates run Dec. 9-12th.   You can purchase these online or by calling (513) 497-5000. They also have season tickets (only available at the box office) for $25.
On December 11th, you can also add lunch ($10) or dinner ($15)  to your ticket cost if you'd like to enjoy some delicious food by City Barbeque.  This will include a meet-and-greet with the Seussical characters and a great photo opportunity for the kids! More information can be found on their website: www.brieabiproductions.com.
Here is the listing of their upcoming shows:
Breiabi Productions has given Family Friendly Cincinnati two tickets to see Seussical.  To register please do one of the following (if you do more than one, you get another entry). The winner will be drawn on Wednesday, Dec. 1 using random.org.  We will notify the winner via email and the winner will have 48 hours to accept otherwise we'll have to draw a new winner.
Leave a comment below on a live art performance you have taken your children to.
Visit BrieabiProductions website and tell us one of their past shows.
Join our newsletter and leave a comment that you did (you can join on the home page). If you've already joined, leave a comment that you are already a member.
Follow us on twitter and send a tweet that @FamFriendlyCin is having a give away for Seussical the Musical.
Anderson Twp., OH 45230      
Congratulations to Kimberly L. – She's previously seen Beauty and the Beast with her oldest.  Enjoy the show!