Every year my family plans an overnight adventure to Great Wolf Lodge (see my post from last year).  I call it an adventure since the minute you walk into GWL, it's not like your typical hotel.  Looking around the massive lobby can keep you and your kiddos entertained for quite a bit.  We always plan our stay during their annual Snowland celebration (Dec. 3-25).  So when we enter GWL, we are greeted by a gorgeous holiday display filled with Christmas trees, larger than life hanging snowflakes, and lots of festive decorations.  Even the animals in the lobby get gussied up in festive holiday attire.  It is the highlight to our year when we go on our GWL stay-cation (we only live 5 minutes away).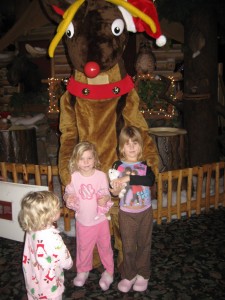 Even before Snowland, GWL also hosts a delicious Thanksgiving buffet in the Loose Moose Lodge.   So if you don't want to cook for Turkey Day, head over to GWL and they can do all the work for you (kids 3 and under are free).  They will have a Thanksgiving breakfast buffet (8-10:30am)
and a lunch/dinner buffet (Noon-6pm). Call (513) 459-8885, ext. 754 for reservations. You don't have to be a guest staying at the hotel to enjoy the buffet or the other on site restaurants.
You can also stop in to enjoy many of the other attractions at GWL. Visit Elements Spa Salon for some pampering for you or Scoops Kids Spa for spa fun for the kids. Have family night and visit the Northern Lights Arcade and eat at the Pizza Hut Express or Camp Critter. You can even time your visit to see The Clocktower Show in the lobby (showings at 10am, 8pm & 9pm).  Take the kids to Cub Club and have them color, play, make a craft or tie dye a t-shirt (charged crafts start at $5 and up).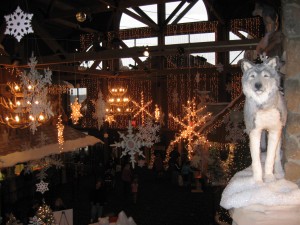 This year my girls really want to try Magiquest.  This is an interactive scavenger hunt that takes you on an adventure throughout the hotel.  There are cool stops along the way.  You purchase a wand at the Magiquest gift shop ($15.99 and up for the wand and$12.99 for the game ) and then you are on your way.  Keep your wand and return to play on another visit.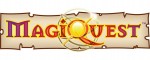 Now, even with all the fun activities that everyone can do, the one thing that makes GWL so special is the on site waterpark. Nothing beats entering a warm waterpark when it's chilly outside.  We always have a great time zipping down the water slides, splashing in the wave pool or lounging in a tube in the lazy river.  To enjoy the waterpark, you do need to book a room at the hotel.  But booking a room is well worth it when you are having so much fun.  At GWL, all the family entertainment is in one place so you never have to leave the hotel – you just get to play and have fun.
Thanks to the nice folks at GWL for giving FFC a family four pack of waterpark passes to give away to one lucky Greater Cincinnati reader.  You don't have to book a room to use these passes and you can save them for later in the year since they don't expire until 11/3/2011.  To register for our Great Wolf Lodge Holiday Hoopla give away, please do one of the following:
Visit Great Wolf Lodge Mason's website and leave a comment about something that sounds like fun to do.
Read about their Thanksgiving Day Buffet and post what sounds yummy to you.
Join our newsletter and leave a comment that you did (you can join on the home page). If you've already joined, leave a comment that you are already a member.
Follow us on twitter and send a tweet that @FamFriendlyCin is having a give away for Great Wold Lodge Mason.
Find out what the Snowball is at GWL and leave a comment.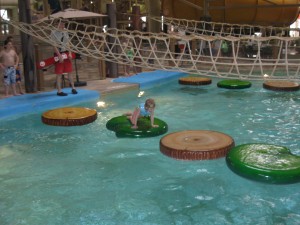 Our winner will be selected on Monday, Nov. 29 and will be notified via email. You'll have 48 hours to accept the give away or a new winner will be selected.
Update: Thanks to all of our entrants.  Our winner is campbellkids.