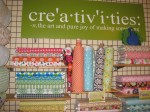 The giveaway is now CLOSED. Winners will be announced shortly. Thank you!!! Karen
I had the absolute pleasure of taking my two kids to one of the coolest places in Cincinnati.  We went to Creativities for an super fun evening out.  Located in Madeira, Creativities is a community gathering spot, built around a "hands-on" working studio and creative arts store.
Creativities offers open studio times as well as classes to fit just about any type of crafting you'd like to do. Kids and adults are welcome.   The night we went, we met up with the owner, Christine Parker, and she and her staff showed us around and helped my two kids (an eight year old girl and a five year boy) make two really cool crafts. Christine wants her studio to be a place where imaginations can run wild and just about any idea is possible to at least try.
During Open Studio, you pay a basic studio fee (ours was $8 per child and was graciously provided to us free of charge). This fee covers the cost of the space, all of the tools (and you name the tool and they have it!) you'll need and the help of staff members.  It took us about 90 minutes to complete our crafts and we were never rushed along (if anything I was the one pushing the kids to "hurry up!" ).  Any other costs for Open Studio all depends on what you choose. All of the available items had prices on them, so it was easy to make sure we stayed within the pre-set amount I'd wanted to spend.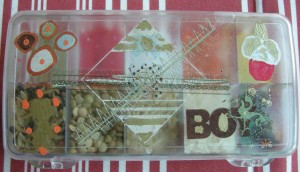 The choices available for a craft project was very extensive (which is a great thing!). My son picked out a plastic box with 8 inside compartments. Then he picked out some rub on stickers.  He then spent then next 90 minute working hard to create the perfect box for him.  The staff was so wonderful, they helped him every step of the way – showing him how to use the tools and making the occasional suggestion (but the suggestions were never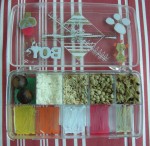 forced onto him – he could do what he wanted).  I thought he was finished when he discovered the paint markers. Then round two of his creative little mind set in.  He painted the bottom of each compartment and numbered them.  When we got home, he already knew what he wanted to keep in his treasure box – different types of rices, nuts and beans. And I have to tell you that as he was wrapping up his craft, Christine wasn't pleased with how the box was sticky after some finish spray had been put on, so she sent us home with all of the necessary items and instructions to create another box at home.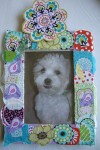 We recently got a new puppy (to us) and my eight year daughter wanted to decorate a picture frame to house his photo.  She knew exactly what she wanted to do and Christine helped her run with her idea.  We  helped her dig through a pile of scrap fabrics to find just the right shapes and images which were then cut out and glued around the frame.
What I loved about this studio was the fact that I didn't have to get involved with the crafting process unless I wanted to.  I'm a bit a control freak and I'm opinionated, so to be able to have my kids fly free and have someone trained to let them and to gently nudge them along was really wonderful to be able to see.
In addition to the open studio times, Creativities offers a comprehensive range of classes for young kids all of the way through adults.  Complete descriptions, dates, costs, etc are on the website, but here's a quick snapshot of what's offered:
For young kids
Pre-K Art & Creativities – paint, stitch, carve, sketch, build, design and create! is the theme
Kindergarten Arts & Creativities – paint, stitch, carve, sketch, build, design and create but just for Kindergartners
Planes, Trains and Automobiles – wood, clay and assorted sundries are sued to assemble wood model kits or sculpt vehicles
For Elementary – Middle School Children
Arts & Creativities – fine arts like painting and drawing, building with clay, wood and recycled materials, and designing with papers, fabrics, beads, and more.
After-school Art Club – an "add-on" to classes, kids can arrive as early as 3:10 pm and stay as late as 6 pm.
American Girl Doll Sewing – Learn to use the sewing machine properly while making clothing, tablecloths, bedspreads and more for your 18″ doll.
American Girl Doll Designing – Outfit and 18″ doll ins imple clothes, furniture and home items, handmade by you!
Reading Arts – Make your own jewelry with pre-made beads and beads you make yourself as well as fabric.
Clay/Sculpt/Build – hand-on three dimensional class that's all about building and sculpting.
Draw/Sketch/Paint – drawing and sketching are wonderful skills for a lifetime!
Design Your Space – Use lots of different things to decorate your locker,  your room or your stuff.
Fashion Design & Basic Sewing – this class is all about learning how to use the sewing machine properly, reading patterns, and creative process of designing.
Intermediate Fashion Design & Sewing – turn your sewing skills up a notch with slightly more advanced projects and a continued focus on the design process.
Screenprinting & the Paper Arts – screenprint a t-shirt or print – create clothing, artwork for your home, locker, stationery and more.
Classes for Adults:
Adult Paint/Sketch/Draw – no experience needed!
Simply Sewing – master the sewing machine and walk away with a garment, items for your home and the ability to whip up something fun whenever you feel like it.
Ladies' Beading Night – each Wednesday make beads or use pre-made beads to create something unique.
Christine also told me, "In October we are starting Friday Kids' Nights, where mom and dad can drop off the kids (ages 4 and up) for dinner which they will help make, as well as fun games, and of course arts and crafts.  Lots of fun, kids only, and No TV!   There are also Holiday Gift-Making Workshops coming up which keep the kids busy and knock a present off the list.   They leave with a gift wrapped and ready to go, including a card." Don't both of those sound absolutely amazing?  They do to me! I'm seriously hoping we can fit one or the other into our Fall/Winter schedule.
Birthday parties,  Ladies' Night Out, Bridal or Baby Showers or any special event can also be taken care of at Creativities.
For those having a hard time finding this on google the website is http://www.artsandcreativities.com/ .
Now here's what you've been looking for …. the GIVEAWAY!!!
We are going to be giving away free Studio Sessions to FIVE lucky FFC readers.  In order to enter to win, please leave a comment below.  Contest will close at 2 PM EST on Monday, October 18.  Winners will be selected at random using an on-line program. Good luck everyone! I want to point out that this covers the Open Studio fee ONLY and all craft materials will require a purchase.  Each winner is entitled to one free open studio fee (so if you have 3 kids, only one fee would be covered should you win).
Creativities is located in the heart of downtown Madeira in a gorgeous Victorian house at 7010 Miami Ave., Cincinnati, OH 45243.  Give Christine and her staff a call at (513) 272-1500 and let them know you heard about them on Family Friendly Cincinnati!
If you like this post, check my personal blog out at http://princesspoodlepuss.blogspot.com/.
Our five winners of a free individual open studio from Creativities are:
Karen S
Stacey K
Jennifer
Carole
Jennie
Please contact Karen at keborall@gmail.com for more information. Thanks everyone for entering!!!