Last month, we featured The Fitton Center for Creative Arts and some of the great art opportunities they have. This month, The Fitton has graciously given FFC a family pack of tickets (2 adults and up to 3 children) for their upcoming Mystic Drumz performance on September 24 .  Remember to arrive early (doors open at  6:30pm) for their kid-friendly reception featuring light appetizers and beverages to enjoy. The show begins at 7:30pm.
Mystic Drumz is part of the Fitton Family Friday Series and this will be a great night for all to enjoy.  Here's a synopsis from Fitton, "This Adventure in World Music blends multicultural musical themes and interactive audience participation! Come join the fun on this fabulous musical adventure to find Marshmallow Island. Meet all the hilarious characters who color the show with a splash of silly."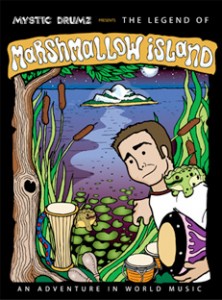 Tickets are $10 for adult members, $12 for non-members and children (up to age 16) are only $5 for members, and $6 for non-members.
To Register for our give away please do one of the following (if you do more than one, you get another entry):
Leave a comment below on a live art performance you have taken your children to.
Visit The Fitton Center for Creative Arts website and leave a comment here about something that interested you.
Join our newsletter and leave a comment that you did (you can join on the home page). If you've already joined, leave a comment that you are already a member.
Follow us on twitter and send a tweet that @FamFriendlyCin is having a give away for Mystic Drumz.
The give away will end on Monday September 13 at 9pm.  The winners will be notified via email. If a winner does not respond within 48 hours a new winner will be selected using random.org. Good luck everyone.
To learn more about me, please visit my personal website, MasonMetu.
Congratulations to FFC viewer, Angie, on winning the family pack of tickets.