Congratulations Rebecca – you won the $25 Gift Certificate – check your email!
Noodles & Company has been a long go-to favorite of our family.  I love their Penne Rosa and Doug is nuts for their Japanese Pan Noodles. Doug and I usually get the trio, the perfect amount of a tasty salad and small bowl of noodles…terrific way to get portion control under…well…control.
But buying for P has always been a challenge.  The noodle bowls are just too big for her, and it turns out Doug and I are not very good sharers when it comes to our bowls.  Pathetic, but true.  And if we get P a meal, we end up fighting over *her* leftovers, so much for portion control!  To say nothing of marital harmony.
So I was intrigued when the folks at Noodles & Company contact me recently about their new Square Bowls.  For a very reasonable price, you can get a delicious family-size meal (honestly enough for two rounds for our family of three). Prices start around $16, $23 with a yummy protein and they are terrific.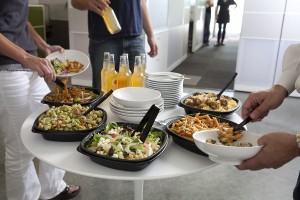 Grab one of these bowls to go – they'll throw in plates, utensils, a serving spoon – take it home, toss a Dole salad, slice up  some bread and viola – it's what's for dinner y'all!
I will say our martial harmony hasn't exactly improved, now instead of fighting over P's leftovers, we're battling on WHICH tasty bowl to choose.
And thanks to my friends at Noodles & Company, FFC has a $25 gift certificate for one lucky family to try the square bowls out for themselves.  Visit the Hyde Park store, Tylersville, or my buddy Cory Amendt at the Florence shop!  Almost all the items on their noodle menu can be "squared", and my suggestion would be to just make the pick yourself, don't even consult your spouse :-), trust me.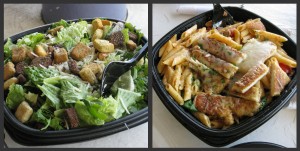 Entering is just as easy as ordering these Square Bowls!  Just go to their site and come back and tell me what you'd like to try if you win.  Get additional entry by tweeting  the following:
I just entered to win a $25 gift card to try Noodles & Co's new Square Bowls!  http://tinyurl.com/254cbhd Thanks @famfriendlycin!
You have til 11:59pm on Friday (8/27) to enter!  Good luck!

PS:  Noodles & Company makes THE BEST rice krispie treats and they are huge – so don't forget dessert!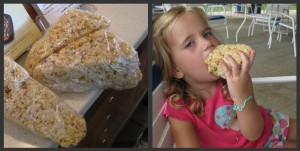 Full disclosure folks: Noodles & Company did provide me with a gift card to sample the square bowls, as well as a gift card for our giveaway.  But the opinions here are completely my own.