If you get the chance, you should make a trip to Bonnybrook Farms.  I was lucky enough to visit this beautiful farm for my daughter's first grade class school field trip.  We got to hop on a wagon ride, visit the barn with the friendly farm animals, and play on the playground. They have a  slide built inside Horseshoe Hill that the kids will enjoy doing over and over again plus there is a huge tunnel under the hill that the kids will love running through (wish I could bottle their energy). There's also mini buildings just perfect for a child to enjoy and let their imaginations soar.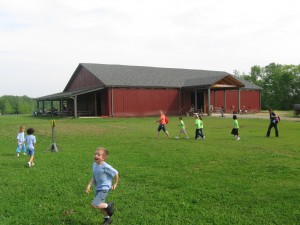 The large Harvest barn has plenty of picnic tables and a lots of great farm memorabilia on the walls to view. This year they have a new family-friendly activity that is perfect for city folk who'd like to enjoy a bit of the country.  On Saturday nights beginning July 10 through August 28, they have their Chuck Wagon Dinner Rides.
The Chuck Wagon Dinner Rides is something that the whole family will enjoy.  Here's a schedule of events from their website:
"5:00 p.m. Games & Entertainment: Work up a hearty appetite before dinner by participating in our farm activities. There's something for all ages and all activity levels. There will be time for activities after dinner as well:
• Clodhopper Golf • Petting Barn
• Farmyard Play Area • Fish Feeding
• Horseshoe Hill Tunnel & Slide
• Catch and Release Fishing  (Bring your own fishing pole and bait)
• Giant Slingshots
6:30 p.m.  The Dinner Bell Rings! Head on over to the Harvest Barn for a buffet of farm fresh delights! Join in the fun and grill your own mouth watering, juicy steak or chicken just the way you like it.  Children's menu offers a choice of hot dog or hamburger. Drinks are included but you may BYOB if you like.
8:00 p.m.  Wagon Ride: Breathe in the fresh country air and enjoy the scenery as you head out down an authentic old wagon road to Todd Fork Creek. Pull up a log, have a seat and enjoy dessert around the campfire."
All the fun events and dinner are included for one price.  Grill your own steak dinner is $25/ages 11 and up, chicken dinner is $22/ages 11 and up.  Kids 4-10 years are $12 and they can either have hot dogs, hamburgers, and kids 3 and under are free. They also let you BYOB if you'd like to bring some adult beverages, but regular drinks are provided.  Tip: An RSVP is needed and if you use coupon code "Tasty Adventure" you can get $2 off each reservation.
One of the things I loved most about Bonnybrook Farms is the people.  They have the most friendly staff. I  even got to meet the owner, Bonnie, and she was so hospitable.  I didn't realize she was the owner until the end of our field trip.  She was great with all of the kids, she got one of the horses to talk (you have to see it to believe it), held the baby goats for the kids to pet and was so welcoming to our school.  I hope you'll visit Bonnybrook Farms soon and see their wonderful hospitality first hand.  If you can't make it this summer, definitely set some time aside in the Fall for their Fall Farm Days (Saturday & Sundays from Sept. 25-Oct. 31) with free admission and parking and lots of free events for the kids.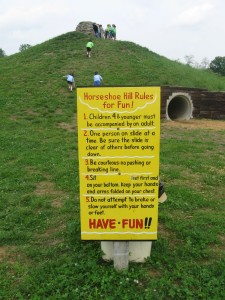 Bonnybrooks hospitality continues and they are giving one lucky FFC family, a family four pack of tickets to the Chuck Wagon Dinner Ride.  To register please do one of the following and if you do more than one you get an extra entry for each. You have until Tuesday, July 13 to enter and the winner will be announced on July 14.  The winner will be notified via email and will have 48 hours to claim their prize or another winner will be selected.  Good luck everyone.
Join the FFC newsletter and leave a comment in this post so we can contact you (you can join on the FFC home page).
Leave a comment in this post on your kids' favorite farm animals (or your favorite).
Tweet that @FamFriendlyCin is having a Chuck Wagon Dinner Ride give away to Bonnybrook Farms (make sure you leave us a comment that you tweeted).
Take a look at www.bonnybrookfarms.com and tell us something you learned on their website.
Bonnybrook Farms is located in Clarksville, Ohio.  It's about 20 minutes from Kings Island and 40 minutes northeast of Cincinnati.
Bonnybrook Farms 3779 State Route 132, Clarksville, OH 45113
937-289-2500
Disclaimer: Bonnybrook Farms graciously offered to do a give away after I contacted them.  We have not received any compensation or tickets for personal use from Bonnybrook Farms for doing this post.
To learn more about me, head on over to my personal website, MasonMetu.