With so many "fast" food places in Cincinnati, it's nice to be able to head to Qdoba where your food is not only quickly prepared but it's also fresh, fresh, fresh.  This summer Qdoba has their seasonal Summer Fresh Mango Salad on the menu.  Although I've enjoyed Qdoba's delicious menu items many times,  I haven't had the chance to try this yet, but I've added it to my summer "to eat list".  Qdoba describes it best, "our Summer Fresh Mango salad is our seasonal mango salsa served over fire-grilled chicken and crisp romaine lettuce all in a crunchy tortilla bowl, drizzled with cilantro-lime vinaigrette". Sounds yummy to me.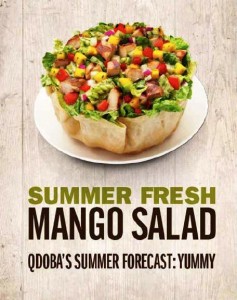 If your tastebuds are watering, then we hope you'll enter our Qdoba giveaway.  We have five Qdoba loyalty cards to give away. Each Qdoba card has been pre-loaded with 4 entrées and chips and salsa. If you're a lucky winner, you'll need to register your Qdoba card. The cards have no monetary value and can't be used for drinks or extras. Once you have your Qdoba card registered, it's a great way to keep earning free menu items from Qdoba. Every time you visit and order a full-priced entrée , just have your card swiped and you'll start earning points towards a free entrée.  Click here for all the Qdoba card details and FAQ's.

To Enter please do one of the following – register for Giveaway by July 1:

Leave a comment on this post on why you love Qdoba
Subscribe to the Family Friendly newsletter and leave a comment saying you did so.
Send a tweet that @FamFriendlyCin is having a Qdoba giveaway and leave a comment on this post that you tweeted.
Thats a total of FIVE chances to win!! Winners will be selected via random.org and you will have until July 1 at midnight to enter. Winners will be contacted via email and will have 48 hours to claim their prizes.
You can also follow  Qdoba of SW Ohio on Facebook or Family Friendly Cincinnati on Facebook but this isn't required to enter the drawing.
Now, if you really really love Qdoba and want to increase your chances to win some of our FFC contributors are also having Qdoba give aways. Please visit the following for all the details: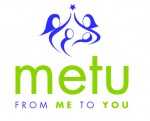 MasonMetu – I've got 5 free Qdoba loyalty cards pre-loaded with 4 entrées and chips and salsa. Giveaway open until June 30. 
Good luck to everyone and stop by your local Qdoba soon to try some of their delicious menu items. You can also follow Qdoba of SW Ohio on Facebook .