Note: Tropical Smoothie Café is now closed.
A Great Alternative to Fast Food.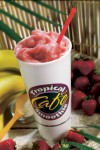 You'd think that I'd be more on the ball and would have visited the Tropical Smoothie Café  before now. I've driven past this hidden gem numerous times after repeatedly paying my $50 cover charge to Target at the Voice of America Shopping Center in West Chester.  After shopping at Target, I was hungry and miraculously remembered that they were in my Entertainment Book (great coupon book but I always seem to forget I have it).  So, with my coupon in hand  (I could buy one smoothie, sandwich or salad and get one free), I entered the colorful café.  Their menu was printed over the counter where you ordered and I selected a King Caesar wrap which comes with either an apple, orange or chips (yes, I picked the chips) and a Hawaiian Breeze Smoothie (low-fat).   After placing my to-go order, only $6.82 with my coupon, I was madly scrambling around trying to find my keys in the pit of my purse and I don't think more than 2 minutes passed before a nice worker brought out my smoothie.  Within a minute after that another worker hand delivered my wrap and when I got it, I realized it was heated – even better.  I ended up finding my keys (left them on the counter – ahhh) and headed out with my lunch.
As I left, I noted that on Sundays, kids eat free with an adult meal purchase.  For kids under 12, they have cheese quesadillas, pizza and flatbread with either turkey, ham or grilled cheese plus they get their choice of chips, cookie or fruit and they also get a 12oz smoothie or a drink (wowza).  Another bonus that I found on their website is their "Tropical Smoothie" happy hour and for only $2.99 you can get a smoothie M-F from 8-10am or 3-5pm. Needless to say, I'll be returning for both of these great offers.
My wrap was delicious.  The toasted wrap was packed full of moist, tender chicken accompanied by romaine lettuce, tomatoes, parmesan and just the right amount of Caesar dressing.  The smoothie was also yummy and the bonus was that after I picked up S from preschool, I gave her some to try and she loved it (that says a lot).  I even called to tell one of my girlfriends about it and she ended up stopping for lunch too and she texted me that she LOVED it.
So, for a nice alternative to your typical fast food restaurant, head to the Tropical Smoothie Café and enjoy quality ingredients and some healthy side choice alternatives.  Now when I visit Target, I better reduce my cover charge to $40 so I can enjoy more of this great café.