At VOA Learning Center April 24 and 25 As Part Of "Fine Arts Fund Presents"
Miami University's Voice of America Learning Center, as one of the Fine Arts Fund's community arts centers, will host two events that are part of the "Fine Arts Fund Presents" series of performances throughout the region.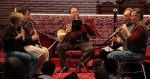 A Cincinnati Symphony Orchestra woodwind quintet will present a free concert at 2 pm on Saturday, April 24, in the VOALC auditorium.  The quintet is comprised of CSO musicians Joan Voohees (flute), Chris Philpotts (oboe), Ron Aufmann (clarinet), Hugh Michie (bassoon), and Tom Sherwood (French horn), and will present a variety of music for all ages.  The group enjoys sharing with young audiences the role of their instruments in the orchestra through their playing, and through an interactive question-and-answer session that is part of the presentation.
Family dinner theatre is the theme for Sunday evening, April 25, with the Playhouse In the Park production of "The Garden of Rikki Tikki Tavi."  Dinner of hamburgers, hot dogs, chips and drinks will be served beginning at 6 pm at the Learning Center, followed by this fun, loose adaptation of the Rudyard Kipling classic tale.   The delightful, free-flowing comic brawl with lessons about sharing and cooperation, tells the story of Darzee, the diva tailor bird, who is incensed when Rikki Tikki Tavi shows up.  Darzee and friend Chuchu pull out all the stops to run off Rikki, the pesky mongoose, until they see that Nag, the deadly cobra, runs in fear when spying a mongoose on the loose! Tickets are $7 each, and children under 12 are free – no advance tickets are required (pay at the door, cash or check only for this performance).
These family-oriented performances are made possible through grants from the Fine Arts Fund and the Carol Ann and Ralph V. Haile Jr./ US Bank Foundation. The Learning Center's Community & Alumni Network is serving as the host for these events, which will take place in the auditorium of the Center, located at 7847 VOA Park Drive (corner of Cox Road and VOA Park Drive) in West Chester.