It' s supposed to cool WAAAY down this weekend (we're talking high temps in the 50s!), so that may affect your weekend plans. But I also saw a lovely sun in the forecast — maybe a great time to get out, as long as you bring a jacket?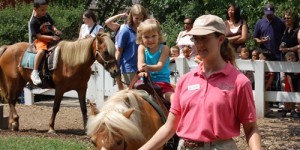 Whether you'd rather stay indoors or get out and about, here's our roundup of fun stuff to do for Cincinnati families this weekend:
Friday, April 16
Fantastic Farm Fridays at Parky's Farm (10 a.m. – 2 p.m.): Hands-on educational activities and live demonstrations. Includes goat milking, sheep shearing, vegetable planting and more. Pre-kindergarten through sixth grade. (FREE with vehicle permit)
Family Fun Night at Town and Country Sports and Health Club (6 p.m. – 9 p.m.): Family-organized games, optional crafts, Aeroball, rock climbing, Wii Sports, sports wall and swimming. ($5 per family, reservations required)
Sesame Street Live: Elmo's Green Thumb (Opening Night) at Bank of Kentucky Center (7 p.m.): Join all your favorite friends on an amazing adventure as they help Elmo find a new home for Sunny in this all new Sesame Street Live stage show. ($27 gold circle seats, $19, $15, $12)
Family Movie Night on NBC: Secrets of the Mountain One Family's Adventure. Every Family's Challenge. promises to bring great entertainment with good values back to our television screen.
Saturday, April 17
Butterfly Show at Krohn Conservatory (Opening Day, 10 a.m. to 5 p.m. daily): Featuring international butterflies, flowers, culture and art of Japan. Show divided into three sections to mimic change of seasons, beginning this weekend with Sakura. ($10 unlimited admission pin; $6, $5 seniors, $4 ages 5-17, free ages 4 and under)
Linton Music's Peanut Butter and Jam Sessions at Mount Washington Presbyterian Church (Shows at 10 a.m. – 10:40 a.m. and 11:30 a.m. – 12:10 p.m.): The Madcap Puppets join Peanut Butter and Jam musicians to tell exciting stories set to chamber music. For ages 2-6 and their families. Free Graeter's cookies at concert. ($12 flexbook of four tickets, $4)
Earth Day Celebration at Sawyer Point (12 p.m. – 5:30 p.m.): Features exhibitors with hands-on displays representing environmental groups, government agencies and businesses. Rock-climbing wall, kayak paddle safety pool, ORSANCO's aquarium, baby animals from Farmer Frank's Sunrock Farms, Mother Earth and story telling, environmental puppet show, children's fashion show with creations made with recycled material and more. Music by the Turkeys, Wild Carrot, the Blue Grass All-stars and others. (FREE)
Family ARTventures at Cincinnati Art Museum (Saturday at 1 p.m., Sunday at 3 p.m.): Meet in front lobby. Tours feature touchable objects and hands-on art stops led by specially trained docents. (FREE; parking $4, free for members)
Earth Day Celebration at Blue Manatee Children's Bookstore (1 p.m. – 2:30 p.m.): With Imago Earth Center. Including stories, songs, crafts and more. Ages 2 and up. (FREE)
The Garden of Rikki-Tikki-Tavi at Silverton Paideia Academy (3 p.m.) (Also at Evendale Cultural Arts Center on Sunday, 3 p.m.): Featuring Playhouse's Touring Company. Free-flowing adaptation of the Kipling classic, a comedy about sharing and cooperation. Part of Playhouse Off the Hill Series. Ages 4 and up. (FREE)
Sunday, April 18
Chocolate Festival in Village of Washington, Ky. (11 a.m. – 5 p.m.; also on Saturday, 10 a.m. – 6 p.m.): Chocolate treats, children's games, street vendors, food and strolling entertainment. Log Cabin Cruise-In 1-5 p.m. Chocolate Candy Hunt 1:30 p.m. Music by Four-string band 3-4 p.m. (FREE)
Family Bowling Bash at Super Bowl, 510 Commonwealth Ave. Erlanger, KY 41017 (1 – 4 p.m.): Includes two hours of bowling, shoes and pizza. Registration available at 2nursesonamission@gmail.com. Benefits Project CURE and Kids Against Hunger. ($12, $10 ages 12 and under)
ALSO ON SUNDAY: See listings above for details on Sesame Street Live, Butterfly Show, Family ARTventures and The Garden of Rikki-Tikki-Tavi.