How will you be celebrating Earth Day with your family?  One option that gets our "green" stamp of approval is Marvin's Organic Gardens Annual "thinkGREEN" event on April 25th. In it's 3rd year, the event celebrates Earth Day by showcasing simple and practical ways we can all live a "greener" life.
Free and open to the public, "thinkGREEN" will feature music, food, 40+ green business and organization vendors, door prizes, and more. Last year's event saw more than 700 attendees and even more are expected this year! Vendors on site include:
About Eating with Rita Heickenfeld
Alex's Wormiculture
Cincy Chic
Cincinnati Nature Center
Comey & Shepard Sustainable Living Experts
EcoDiscoveries
Endeavor Learning Center
Fab Ferments
Fit to Garden with Stacy Walters
Good Natured Baby
Granny's Garden School
GreenBird
Greg's Green Supplies
Green Energy Ohio
Greener Stock
Green Irene with Ellen Hall
Hamilton County Fair Go Green
Harmony Farm
Home Energy Checkup
Infinity Magazine
Juice Plus
Keep Cincinnati Beautiful
Lucid Salon
Mantra Wellness Center
Miessence
Murage
Mrs. Meyer's Clean Day
Natural Awakenings
Nature's Garden Delivered
Paper Alice
Park + Vine
Peaceful Acres Lavender Farm
Pheasants Forever
Rumpke Recycling
Seven Hills Organic Coffee
Shaklee Natural Nutrition
Sheltowee Farm Gourmet Mushrooms
Sierra Club: Miami Group
Smart Center Cincinnati
Snowville Creamery
The Soapbox Soap Co.
Sugar Cupcakery
Sunrock Solar
Sustain Brand
The Veg Head
Tupperware
Usbourne Books Green for Kids
U.S. Green Building Council
Warren County Soil & Water Dept.
Whole Foods Mason
Widmer's Cleaners
.
Want to go?  Head over to Marvin's Organic Gardens on April 24th from noon-6 p.m. Children's activities will take place from 2-5:00 p.m. and will include live music, book reading and signing, a petting farm with baby animals from Sunrock Farms, face painting from Face Painting By Tuesday and a special hands-on activity presented by Granny's Garden School. More information can be found on event Web site: http://www.marvinsorganicgardens.com/earthday10.php.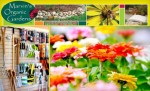 Edited to add!!  Today's (4/9) Groupon coincidentally is for Marvin's Organic Gardens!  Go here to score $30 worth of garden stuff for only TEN BUCKS!  Can't beat deal like that!