Wow Cincinnati!  I sure hope you are resting up for the weekend.  With Easter set to arrive on Sunday, you can't go a block without something fun and family friendly!  And the weather is looking to be picture perfect.  Our picks for this weekend?
Parky's Farm – Fantastic Farm Fridays 10 am – 2pm (runs Fridays thru May 28th!)
Fridays are farmtastic with outside fun and learning at Parky's Farm located on Daly Road.  All the details can be found here and it sounds like an amazing time as kids get the chance to plant seeds and measure ponies, along with demonstrations on things like sheep shearing and goat milking.  Ommmm…goat milk fudge is delicious. Wait,  what were we talking about?
Fountain Square, Downtown Cincinnati – 11 am Saturday

Shannan and I will be loading up our crews and heading Downtown for the fourth annual Fountain Square Easter Egg Hunt.  There are tons of golden eggs filled with awesome prizes and when an egg hunt is sponsored by Graeter's, YOU GO MAN – YOU GO!
The Cincinnati Zoo – all weekend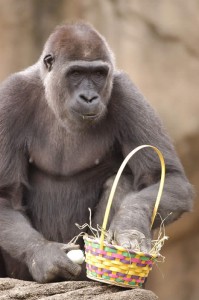 After that, head to the Cincinnati Zoo.  They have something going on for just about every member of your whole family – even grumpy great aunt Mary!!  My P is so excited to welcome back the manatees which are back on display April 1st…no joke!
Zoo Blooms is back in swing all through April!
Then the silliness really starts as the Zoo hosts egg hunts all through the park for the ANIMALS!  If you think Fountain Square goes wild in the morning, imagine what happens when gorillas hop around the bunny trail!  All the Easter Extravaganzas happen from 10am to 2pm.
Fountain Day – 6pm to 9pm Downtown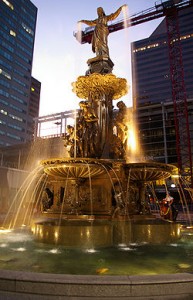 After the long, cold winter, a true sign that Spring is here is always the fresh water running through our city's pride on Fountain Square – The Genius of Water.  Be there when they flip the switch or turn the nob or whatever, I can only imagine buckets will not be involved.  Saturday 6pm to 9pm.  Live music, food, fun…toss a penny and make a wish!
The Easter Bunny Express – LM&M Railroad – Friday & Saturday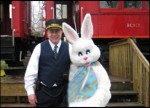 My family did this last weekend and we had a blast.  It was P's first train ride (mine too come to think of it if you don't count subways!) and she loved it.  I recommend pre-paying for your tickets if you decide to go, don't count on them having tickets for purchase same day, they might sell out!
Before or after your train ride, head to S. Broadway in Lebanon and have a yummy treat at Whit's Frozen Custard.  We discovered it last weekend and I've been dreaming of it ever since.  This week's special flavor? Girl Scout Thin Mint…bring me back a pint, wouldya?

Opening Day Parade – 9am BONUS MONDAY FUN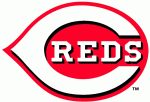 You'll need to pace yourself folks, because the historic 2010 Findlay Market Opening Day Parade is Monday and even if you don't have tickets (like us) or could careless about baseball (like me), the parade is a family tradition to make yours this year!
Head over to the Newport Aquarium beginning on Saturday, April 3rd, to celebrate Sweet Pea's 5th birthday. Sweet Pea is their very popular Shark Ray. The party is going to be loads of fun, with special dive shows and an underwater birthday cake. The kids can sign a giant birthday card as well.  Radio Disney will be there on Saturday to help celebrate with lots of fun games and music for the kids.
Whatever your plans this holiday weekend, the gang here at Family Friendly Cincinnati wish you and yours a beautiful and safe time surrounded by those you love!
Happy Passover!     Happy Easter!    Happy Spring!