Cincinnati Free Family Fun at Lowe's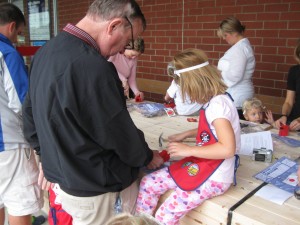 If you want to enjoy a fun and FREE family-friendly activity, then visit the Lowe's Build & Grow Clinic this Saturday (Jan. 9) and you can help your child make a coin bank. We've been going to these for the past year and my girls (ages 5 & 6) really enjoy them. I've gone to a few, but I usually send my husband to the workshops since it's a great way to enjoy some Daddy bonding time while giving Mommy a little break. Grandparents also make wonderful helpers. The workshops are geared for ages five and up but S went when she was four and she did great. If it's your first time attending, your child will receive an adorable work apron and goggles which they'll bring back to use at any additional workshops they attend. After completing each workshop, they get iron on patches that they add to their aprons. Lowe's graciously provides this all free of charge and it really is a great way to have your kids learn how to follow directions, use tools properly (mostly using a small hammer and nails), and they get to take home their wooden creation.
If you can't make the January 9th workshop, you'll have plenty of other opportunities. Lowe's has the clinics twice a month from 10-11am. On January 23, Tic Tac Toe is on the schedule.Click here to register and see if the Lowe's near you is offering the workshops.