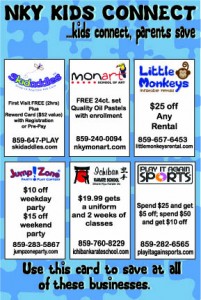 Did you know that there is a discount card available for families in the Northern Kentucky area? I recently discovered that there are 12 locally-owned, family friendly businesses that partnered to create a discount card that can be used to purchase everything from haircuts to classes to entertainment and more! The cards are FREE and can be found at all participating locations.  The organizers are also working to distribute them through area preschools & grade schools.
The following businesses are represented:
Children's Designer Boutique Consignments
Union Pediatric Dentistry
Thank you to Elizabeth at Little Songbird Music Studio for letting us know about this great new shopping resource!