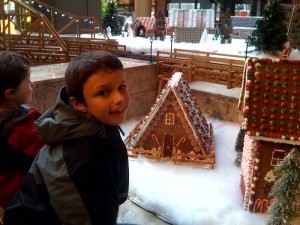 Happy Friday everyone! Can you believe how fast December is flying? It's been insane. I am no where near ready for the Holidays to be over. This weekend my oldest will be testing for his yellow belt in Karate so that will be our main focus, along with soccer of course! For the rest of you out there, there's a lot to do this weekend.
.
Here are just a few of the things we're seeing that you might like:
.
Downtown Dazzle – It's the last weekend for this fun event. See Santa and his reindeer rappel down the 525 building, see a fireworks display and more. All for FREE. In addition to this there are tons of other free events happening downtown this weekend. Visit www.downtowncincinnati.com for details.
————————————–
Christmas at Glendower Mansion – This Saturday and Sunday from Noon-8pm visitors to the Glendower Mansion, decorated for Christmas circa 1845 to 1865, can participate in a candlelight tour. Visit http://www.wchsmuseum.org for details
————————————–
Skyline's Santa Skates – Kids can watch as Santa arrives at Fountain Square ice rink via Segway sled to ice skate with visitors. Santa can be found skating this Saturday from 11 a.m. to noon and on Sunday from noon to 1 p.m. Visit My Fountain Square for details.
————————————–
Wild Weekends at the Cincinnati Art Museum- Free to attend, participants will enjoy a variety of Wild Kingdom themed family friendly activities. Runs from Noon-4pm. Visit www.cincinnatiartmuseum.org/ for details.
————————————–
Cincinnati Dinner Train – Something for Mom & Dad, the Cincinnati Dinner Train boards behind BBQ Review and features a 3 hour train ride and an amazing 4-course meal in vintage dining cars. Visit www.cincinnatirailway.com/dinnertrain/ for details and pricing.